NEW YORK, Oct. 12 (UPI) — Vin Diesel has taken to Instagram to show off his ripped abs in an attempt to silence critics who had claimed the actor now had a "dad bod."
Diesel posted the muscular photos Sunday a week after the 48-year-old was photographed shirtless on a hotel balcony appearing out-of-shape.
"It is amazing the response from the journalists who I have been talking to for the last two days in New York," he wrote, while promoting his latest movie, The Last Witch Hunter, at the New York Comic Con. The accompanying photo features Diesel standing tall and looking lean wearing a black t-shirt and his signature shades.
"Today one wanted to see the dad bod. Haha. I am wondering if I should show the picture…body-shaming is always wrong! What do you think?"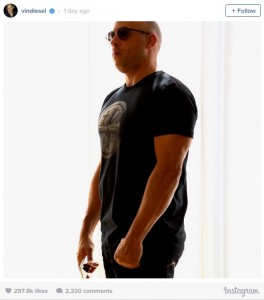 In a second photo the Fast and Furious star is seen lifting up his shirt to reveal his toned abs.
"The pic from yesterday… For those who wanted the show… For all the angels that love dad bod regardless," he posted.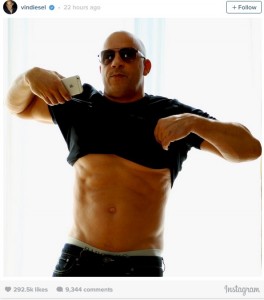 Recently, Diesel announced that he plans on producing one final Fast and Furious trilogy along with reports that Straight Outta Compton director F. Gary Gray has entered into exclusive talks with Universal to direct the next installment in the series,Fast and Furious 8.