PACIFIC PALISADES, Calif., May 10, 2016 (Gephardt Daily) — Former SAG president William Schallert, best known as TV dad Martin Lane on "The Patty Duke Show," died in Pacific Palisades, Calif. He was 93.
The actor's first film role was in the 1947 movie "The Foxes of Harrow"  with Rex Harrison. He also was featured in 1949's  "Mighty Joe Young," John Huston's 1951 classic "The Red Badge of Courage" and with Gene Kelly and Debbie Reynolds in the 1952 movie musical "Singin' in the Rain."
He also had roles in classic science fiction films of the 1950s including "The Man from Planet X," "Them!" and "The Incredible Shrinking Man" (1957). Schallert also appeared in the Disney films "The Computer Wore Tennis Shoes (1969) and "The Strongest Man in the World" (1975).
According to his biography, Schallert's film work led to TV appearances that ran the gambit of genres, from dramatic series and westerns to variety and comedy shows.
Schallert would be familiar to many for his memorable appearances on many TV shows including "The Trouble With Tribbles" episode of the original "Star Trek" series.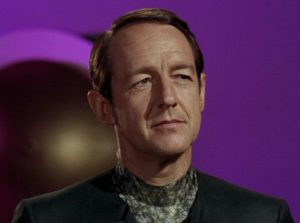 He also recurred on "Get Smart," playing CONTROL's founder Admiral Harold Harmon Hargrade and filled in for Ross Martin on "The Wild, Wild West" after Martin suffered a heart attack.
The actor's long career spanned 70 years with guests appearances and cameos. His last appearance was in a 2014 episode of "Two Broke Girls."
According to Variety, Schallert served as The Screen Actor's Guild (SAG) president from 1979-'81. During those years, Schallert presided over a three-month strike in which the guild was protesting rates and residuals for pay TV (cable), videocassettes and videodiscs and included a successful boycott of the primetime Emmy Awards.
In 1980, Schallert was nominated for an Emmy Award for outstanding individual achievement in religious programming for his performance in "The Stable Boy's Christmas," an episode in the long-running series "This Is the Life."
Another milestone in the actor's life was a 1999 TV movies in which Patty Duke and William Schallert reprised their father-daughter roles for "The Patty Duke Show: Still Rockin' in Brooklyn Heights."
Schallert described his career as a "volume business" and, to the end, he kept up a busy schedule of TV work as well as "Star Trek" convention appearances.
Variety reports that SAG- AFTRA president Gabrielle Carteris stated, "Bill Schallert's remarkable career put him in the rare position of being able to understand actors at all levels of the business."
"He worked virtually every SAG contract, he appeared opposite movie stars and background performers, he was a series regular and an uncredited bit player. He turned this knowledge and experience into service for his fellow actors. Despite leading the union during a very difficult time, Bill maintained his integrity and commitment, a commitment that extended into many more years of board service."
Carteris continued, "I am especially pleased that Bill lived long enough to see the SAG-AFTRA merger become a reality as he was one of the pioneers of that effort."