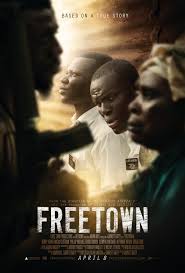 World Premiere of the Film "Freetown" in Utah
Caught in the middle of a brutal civil war, six Liberian LDS Missionaries in Monrovia flee the widespread violence of their native country.
Their destination: Freetown, Sierra Leone.
With the help of local church leader Phillip Abubakar (Henry Adofo), the missionaries make the difficult journey, only to have their troubles compounded by a rebel fighter bent on killing one of their own.
Based on true events, "Freetown" is a thrilling and inspiring story of hope and survival. Liberian missionaries were caught in the Civil War in the late '80's. These missionaries were in a precarious situation where they were called to teach people the good word and being targeted to be killed.
The new film is produced by Adam Abel ("Saints and Soldiers") and directed by Garrett Batty ("The Saratov Approach"). Batty said that immediately after he read the story about the missionaries and saw that 'it was such a high stakes adventure' he knew that it was a movie he would want to see and be a part of.
Gephardt Daily had a chance to chat with the filmmakers at the world premiere of the film.