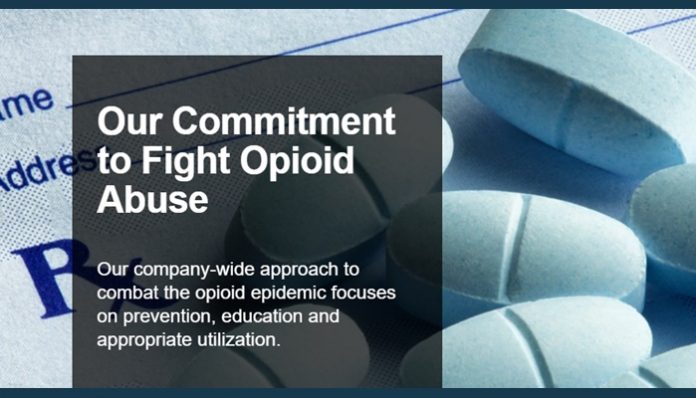 Sept. 23 (UPI) — CVS announced it will limit all opioid prescriptions to a seven-day supply, becoming the first major retail chain to do so in the wake of the opioid epidemic.
CVS Caremark, the company's pharmacy benefits manager, is enhancing its utilization management program to include limiting opioid prescriptions dispensed to seven-day supplies, limiting the daily dosage of opioids dispensed based on the strength of the opioid, and requiring the use of immediate-release formulations of opioids before extended-release opioids are dispensed.
The CVS Health Foundation has also added $2 million to previous investments to mitigate prescription drug abuse.
"Without a doubt, addressing our nation's opioid crisis calls for a multipronged effort involving many health care stakeholders, from doctors, dentists and pharmaceutical companies to pharmacies and government officials," Larry Merlo, president and CEO of CVS Health, said in a press release on the company's website.
"With this expansion of our industry-leading initiatives, we are further strengthening our commitment to help providers and patients balance the need for these powerful medications with the risk of abuse and misuse."
The overprescription of opioid-based painkillers has been identified in several studies in recent years as a main cause of the increasing opioid epidemic in the United States.
A study published in July by the Centers for Disease Control and Prevention also found the average pill supply administered by physicians in the United States for opioid prescriptions increased from 13-day in 2006 to 18-day in 2015.
Since the early 1990s, U.S. opioid prescription rates have more than tripled from 76 million in 1991 to 207 million in 2013, and the number of opioid-related overdose deaths has quadrupled from 1999 to 2015, according to CVS.
The recent report by FAIR Health, a national, non-profit organization that tracks healthcare costs and health insurance information, shows that from 2007 to 2016, private insurance claim lines for opioid abuse or dependence diagnoses were seen in every age group from 13- to 18-year-olds to people over age 80 in rural areas. In urban areas, opioid diagnoses were seen in every age group from people 13 to 18 to those between 71 and 80 years of age.