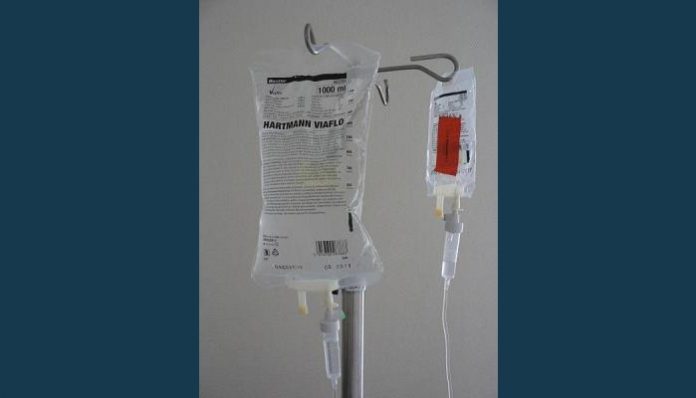 Jan. 14 (UPI) — A shortage of intravenous fluids and bags amid a severe flu season has forced U.S. hospitals to find new methods to deliver some medicines.
Hurricane devastation in Puerto Rico, one of the primary manufacturers of medical supplies, has prompted a shortage of IV bags and fluids in the mainland United States.
Baxter International Inc.'s Puerto Rico plant, which produces 44 percent of the IV bags used in U.S. hospitals, sustained major damage during Hurricane Maria in September. B. Braun Medical Inc., responsible for producing 10 percent of IV bags used in the United States, also has faced production issues before and after the storm.
"It's unprecedented to have this kind of large-scale, nationwide drug shortage of such a basic item in U.S. healthcare," Lee Health chief pharmacist John Armitstead said. "So it's quite dramatic."
The effects of the shortage has been exacerbated by a severe flu season. A total of 211 deaths related to influenza occurred in the United States between Dec. 17 and Dec. 23, according to the National Center for Health Statistics Mortality Surveillance System.
The IV saline fluids, typically administered using plastic bags and tubes, are used to deliver medicine through an intravenous needle as well as hydrate patients.
Kristy Vadnais, pharmacy operations manager of St. Alexius Medical Center in North Dakota, said the lack of production in Puerto Rico has caused the hospital to decrease the amount of IV fluids it's able to order by 40 percent.
In the midst of the shortage, hospitals have used oral medications, used a different sized bag and swapped saline for dextrose to preserve the limited materials.
"That has caused a lot of increased work for our sterile prep room and the amount of work our staff have to do in order to prepare," Vadnais said.
Mark Thomas, chief pharmacy director at Children's Hospital Medical Center, said patients haven't noticed the difference.
"We've been able to manage the shortage very well," said . "I don't believe that it's been necessary to notify our patients or their caregivers."
While manufacturers in Puerto Rico continue to recover from the storm, hospitals have been looking to other suppliers in the United States, Canada and other locations overseas.
"Most of the product we are able to buy is overseas. They're allowing a lot more product in and that's definitely helped us. We're hoping that by the end of January, things will start to look a lot better," Vadnais said.