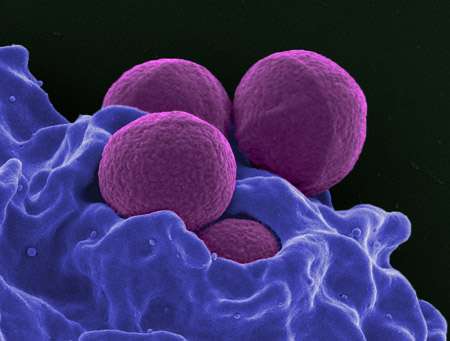 Nov. 4 (UPI) — A recent survey by researchers identified livestock-associated methicillin-resistant Staphylococcus aureus, or LA-MRSA, in human MRSA samples.
LA-MRSA is a risk for people working in close contact with livestock but not typically the general population, say researchers at the European Center for Disease Prevention and Control.
The death of four people in 2014 from LA-MRSA CC398 in Denmark attracted media and scientist attention regarding the risk of LA-MRSA in pigs and humans. Researchers worked to reduce the risks by identifying transmission chains to halt transmission from animals to humans.
Research showed that wearing face masks when working in pig stables can lower the risk of LA-MRSA transmission by 37 percent.
The ECDC received responses from 28 labs located in 27 or the 30 EU/EEA countries as part of a survey initiated in 2014. The labs reported receiving MRSA isolates from 14,291 patients the previous year, 13,756 were typed, and LA-MRSA was identified in 89 percent of the countries with MRSA typing data. Of these, 3.9 percent — 535 of the samples — were identified as LA-MRSA.
The study, published today in Eurosurveillance, demonstrated the increasing detection and geographical dispersion of LA-MRSA in humans in the EU/EEA since 2007 with reports from 2014 and 2015 from Nordic countries showing an increasing trend of LA-MRSA across Europe.
"The high response rate for this survey is indicative of the perceived public health importance of LA-MRSA in EU/EEA countries," researchers wrote in the study.
"This survey documents the increasing detection and geographical dispersion of LA-MRSA in humans in the EU/EEA since 2007, and highlights the public health and veterinary importance of LA-MRSA as a One Health issue. In the light of the increasing spread of LA-MRSA in Europe shown herein, we advocate that EU/EEA countries consider periodically repeating this survey to monitor changes."