SANDY, Utah, March 12, 2016 (Gephardt Daily) — Hundreds, if not thousands, of Do It Yourself enthusiasts gathered Friday for the opening day of a popular annual home show.
"I try to choose one project a year," said Sandy Baum, of Provo, as she perused granite counter top overlays. "Then, of course, I finds lots of other things to do after that. It's not always fun, but it's fun when it's over, and it adds a lot of value to my home."
Julie Johnson, of West Valley City, admits she's more of a spectator to the "sport."
"It's fun to dream," she said, while gazing at new cabinet options. "I don't always get my projects done, or even started, but I always come out."
The Salt Lake Tribune Home & Garden Festival continues South Towne Expo Center, 9575 S. State St., through 10 p.m. Saturday, and 11 a.m. to 6 p.m. Sunday.
Thousands of vendors are offering goods ranging from flooring to ceiling duct systems, from log cabin materials to high-end bathroom designs; and from garden compost to luxury spas.
Ellen Talbot, of Evanston, Wyo., could barely be bothered to speak as she relaxed in one of many vibrating chairs available for purchase.
"Feels good," she said. "Home show is good. Done talking."
Along with booths of vendors and home and garden related information, the show features three stages, with schedule speakers on design, kitchen issuse and gardening.
Here's the schedule of remaining presentations:
Design Stage, northeast corner of the hall
SATURDAY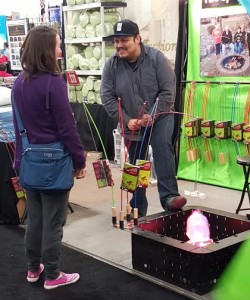 2 p.m.: Alicia Richmond, spring wardrobe updates
3 p.m.: Jamie Walker, designing fun home spaces
4 p.m.: Mary Carn, getting organized
5 p.m.: Sherry Laub, furniture painting
6 p.m.: Jamie Walker, saving when building
7 p.m.: Chris and Peyton Lambton, creative landscapes
8 p.m.: Kelly Dunlop, understanding color and design trends
SUNDAY
2 p.m.: Chris and Peyton Lambton, creative landscapes
3 p.m.: "Old Home Love," adding character to your home
Green Stage, middle stage on hall's east wall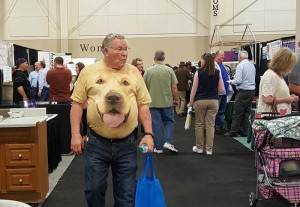 SATURDAY
3 p.m.: Blooming Hope flower auction
5:30 p.m.: USU gardening expert
6 p.m.: Rick Stone, vegetable gardening
7 p.m.: Shaun Moser, landscaping
8 p.m.: Beuna Tomalino, herb gardening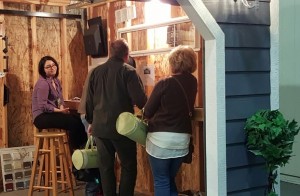 SUNDAY
noon: Amanda Strack, landscape redesign
1 p.m.: Sean & Colleen Jones, solscapes basics and planning
2 p.m.: Cynthia Bee, landscaping
SelectHealth Kitchen Stage, southeast corner of hall
SATURDAY
2 p.m.: Yvonne Heap, demonstration to be announced
3 pm.: Chef Ross, a taste of Italy
4 p.m.: Ruthie Knudsen, penne rustica
5 p.m.: Wendy Paul, no more boring dinners
6 p.m.: Nettie Frank, spring soups and salads
7 p.m.: Laura Burkhard, homemade corn tortillas
8 p.m.: Chef Vaughn, dinner simplified
SUNDAY
11 a.m.: Nettie Frank, Easter brunch ideas
noon: "Sugar Bliss," cookie secrets
1 p.m.: Ryan Hogan, steak-wrapped asparagus
2 p.m.: Yvonne Heap, topic TBA
3 p.m.: Chef Ross, penne rustica