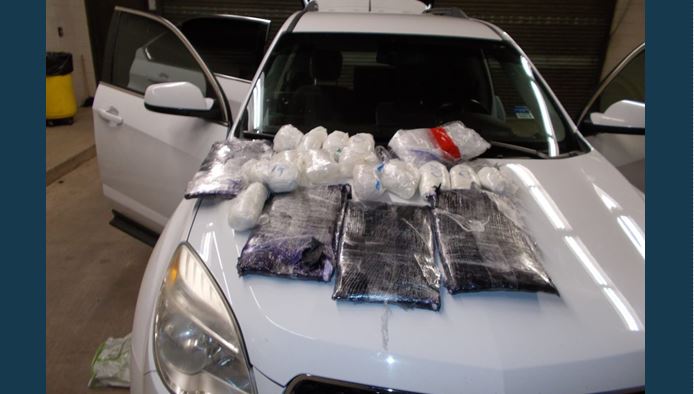 CEDAR CITY, Utah, Sept. 27, 2017 (Gephardt Daily) — Two men are in custody after the Iron County Sheriff's Office says a deputy stopped them for speeding, a K9 detected drugs, and the duo fled, sending officers from multiple agencies on a multi-hour search through a residential neighborhood.
At about 11 p.m. on Sunday, Deputy Wade Lee, Iron County Sheriff's Office, stopped a car traveling northbound on Interstate 15, near milepost 60. The car was going 20 mph over the speed limit, according to a news release from the sheriff's office.
"While talking with the driver, Deputy Lee became suspicious of possible drug trafficking," the statement says. "Cedar City Police responded with a K9 to conduct a sniff of the vehicle. When the driver and passenger exited the vehicle they fled the scene on foot. They crossed the tall deer fence (about 10 foot high) and disappeared into the neighborhood."
More ICSO deputies joined in on the search, as did officers from the Cedar City and Enoch police departments, and the Utah Highway Patrol. A citizens' alert was put out on citizenalert.info.
About three hours later, a citizen called to alert searching officers of a suspicious person in the area of Bi-Centennial Ball Park. Cedar City Police officers and deputies responded to the area, and found two suspects matching the description of the fleeing men.
"When deputies approached the subjects a foot pursuit ensued," the statement says. "Both subjects were subsequently apprehended."
Roberto Lorenzo-Ruiz, 28, and Manuel Gallardo, 38, were charged with possession with intent to distribute drugs and failure to stop at command of police.
A search of the vehicle had revealed approximately 26 pounds of methamphetamine and nine pounds of cocaine, with an estimated street value of $1.6 million dollars.