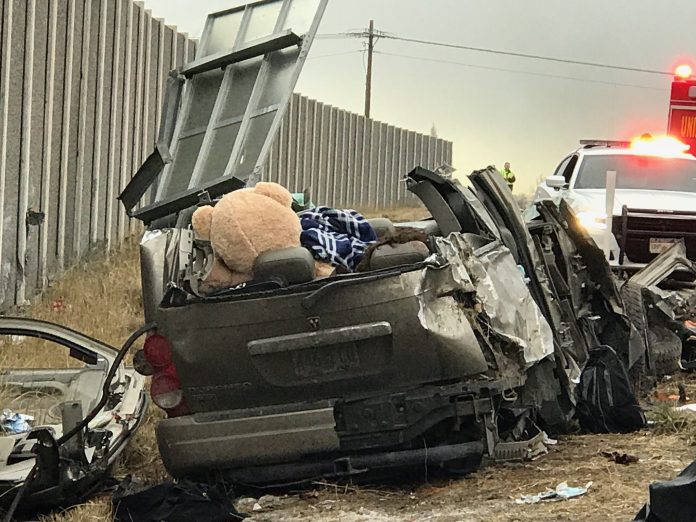 TAYLORSVILLE, Utah, Dec. 23, 2017 (Gephardt Daily) — Police have identified the teenage victim killed Saturday morning when an SUV hit a sound wall on Interstate 215 in Taylorsville.
The deceased is 19-year-old Cage Patterson, of Westfir, Ore. He and his family were traveling from Oregon to Cottonwood Heights to spend Christmas with family members.
The Utah Highway Patrol responded to the crash site near 5700 South and Interstate 215 about 8 a.m.
When crews arrived, they found multiple people pinned inside the vehicle. First responders worked desperately to free two people inside the van, which was also filled with Christmas presents.
According to a Utah Highway Patrol statement, the people in the 2004 Dodge Durango were a mother, a father, and their three sons.
Officials believe the driver dozed off and clipped a road sign just north of the Exit 13 ramp onto Redwood Road.
The van then careened into a retaining wall. The teenager killed was seated in the back seat, on the right side, which impacted the sound wall.
The other family members were transported to Intermountain Medical Center with minor injuries. All vehicle occupants had been wearing seatbelts.
No other vehicles were involved in the accident.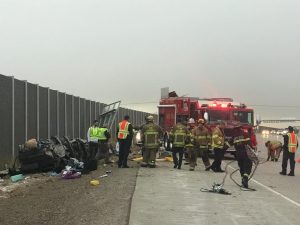 UHP Investigators on the scene of a deadly rollover accident Saturday morning on I-215 southbound near 5700 South. Photo: Gephardt Daily/Justin Anderson