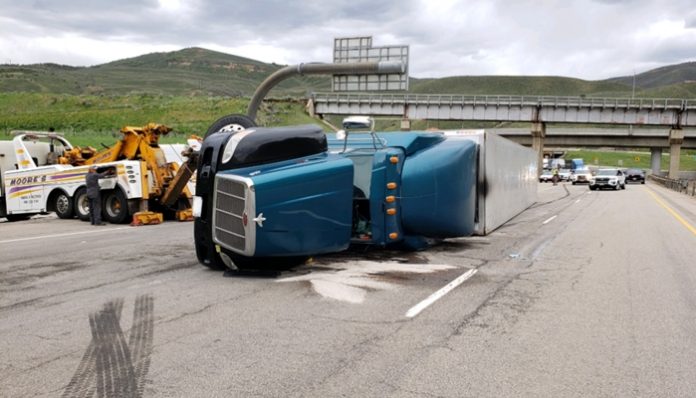 SUMMIT COUNTY, Utah, May 16, 2019 (Gephardt Daily) — One person was injured in a semi rollover near Echo Junction Thursday afternoon.
The incident occurred on eastbound Interstate 80 at the I-84 split, which is mile post 168, at approximately 1:25 p.m., according to a news release from the Utah Highway Patrol.
A Saturn Freight semi truck and box trailer was approaching Echo Junction, the news release said, when it failed to negotiate the curve and overturned onto the driver side blocking most of I-80 eastbound.
The male driver was transported to McKay-Dee Hospital in Ogden with non life-threatening injuries.
"There is some diesel fuel that spilled on the pavement from the truck's saddle tanks, but it was not hauling hazardous materials," the news release said. "It was a load of produce."
As of Thursday evening, all lanes have reopened.