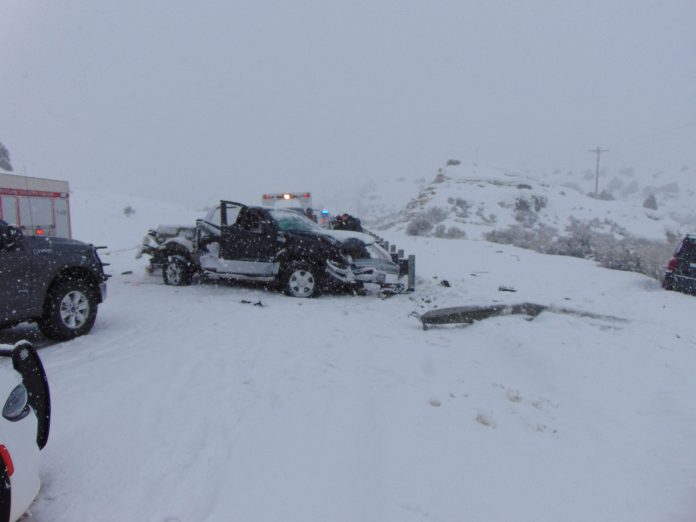 DUCHESNE, Utah, Feb. 13, 2019 (Gephardt Daily) — A woman is in critical condition after a pickup spun on U.S. Highway 40 near Duchesne, impacting a guard rail, which was driven into the passenger compartment.
The pickup was westbound near milepost 66, a Utah Highway Patrol statement says, and the accident happened at about 1 p.m. near milepost 66.
"There was heavy snowfall in the area and the roads were snow-packed," the statement said. "The driver did not adjust his speed appropriately for the existing conditions and lost control.
"The pickup rolled and impacted the end of a section of guardrail. The guardrail pierced the front of the pickup and entered the passenger compartment near the glove box. As it did so, the passenger's hand was struck and she suffered significant hand and arm injuries."
Medical helicopters could not fly due to the storm, so both pickup occupants were transported by ground ambulance.
"The passenger was in critical condition and the driver in fair condition," the statement says. "Witnesses indicated they felt the driver was driving poorly before the crash.
"Troopers found prescription medications and illegal narcotics in the pickup and believe that impairment and speed too fast for the existing conditions were the primary contributors for the crash. Both occupants are expected to survive."