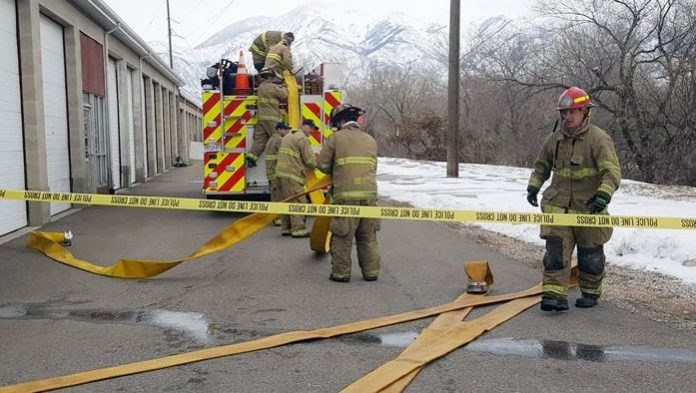 OGDEN, Utah, Feb. 23, 2019 (Gephardt Daily) — One man was killed and a second was transported to the hospital, in critical condition, after an explosion and fire Saturday afternoon at a storage unit in the west part of Ogden.
Sgt. Will Farr, Ogden City Police Department, told Gephardt Daily at the scene that shortly after the call was dispatched, police and fire officials arrived at 12:43 p.m. to the scene, at 2924 Pennsylvania Ave.
Three ladder trucks responded to the scene, along with one engine, two ambulances and a battalion chief, a tweet from the Ogden City Fire Department said. The fire was brought under control at about 1:40 p.m.
The site was a storage unit, Farr said. The investigation was in its early stages, and officials did not know what sparked the explosion or the cause of death for one victim. A fire marshal was investigating at the scene.
Officials are not releasing the name of the victim until after his family is notified.
Gephardt Daily will have more information on the story as it becomes available.