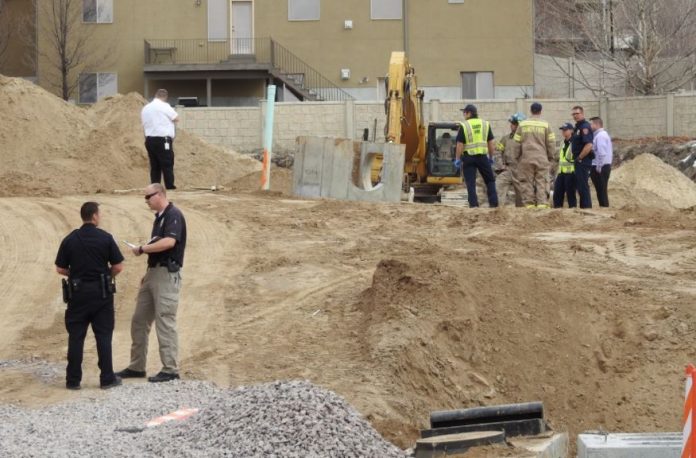 SANDY, Utah, March 9, 2018 (Gephardt Daily) — One man is dead after an industrial accident Friday afternoon in Sandy.
Officials have identified the victim as Russell D. Andrews, 46, of Salt Lake City.
The scene, near 11450 S. 1000 East, is the site of business construction. A 911 call came in at about 2:30 p.m., said Sgt. Jason Nielsen, Sandy Police Department.
The accident happened while the victim was in a trench, helping to lay concrete sewer piping, "which weighs an extreme amount," Nielsen said.
"There was a piece of equipment that malfunctioned, causing this pipe to fall, landing on top of this gentleman."
The victim was in his mid 40s, Nielsen said, but his name was not released earlier pending notification of family.
Nielsen said there were "a handful" of other construction workers at the scene, and they were able to use machinery to lift the large-diameter pipe off the victim. They attempted to render life-saving aid to their co-worker, but were unable to save him, Nielsen said.
Nielsen told reporters he could not estimate the weight of the cement piping, but told  Gephardt Daily that it could have been 4,000 pounds or more.
Nielsen said he could not reveal what kind of equipment failed due to the ongoing investigation.
Gephardt Daily will have more information as it becomes available.