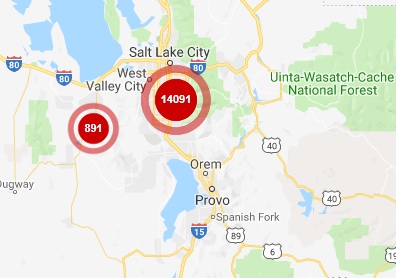 UTAH, Jan. 21, 2019 (Gephardt Daily) — Monday's winter storm caused a rash of power outages, including three in the Draper, Bluffdale and Saratoga Springs areas that affected 12,075 customers.
The biggest outage was in Draper, where 7,479 customers were without power, Rocky Mountain Power said on its website. That outage, in zip code 84020, was first reported at 9:15 a.m.
Two outages in the Draper, Bluffdale and Saratoga springs areas were reported just one minute before, at 9:14 a.m. One outage affected zip codes 84045, 84065 and 84020 and left 2,701 customers without power. There was another outage in the same area, affecting 1,895 customers in zip codes 84065, 84020 and 84043.
Power was restored by noon, though smaller outages are affecting customers in other areas.
Gephardt Daily will have more on this developing story as information is made available.