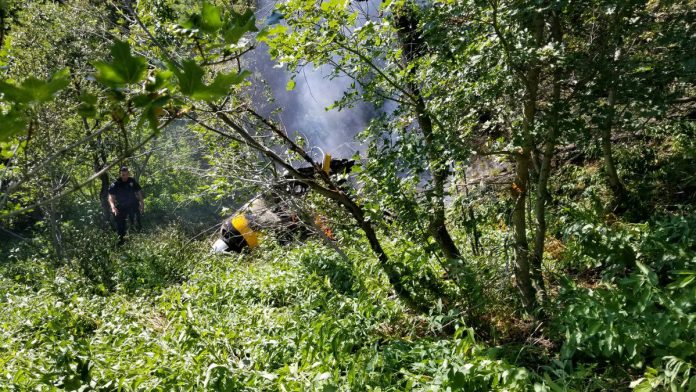 SALT LAKE COUNTY, Utah, July 14, 2017 (Gephardt Daily) — Two men who died after a small plane crashed and burned Thursday morning in Butterfield Canyon have been identified.
The deceased are Nicholas Thomas, 34, and Jacob McGoldrick, 37, officials confirmed Friday morning. Thomas was a captain with the Utah Army National Guard.
"His tragic death weighs heavy on our organization, and our hearts go out to the Thomas family in their time of loss," the Utah Army National Guard said in a news release.
Unified Police Department Lt. Brian Lohrke said officials got word from the Utah Highway Patrol about a small aircraft going down in the area at approximately 10 a.m.
"We were able to get patrol officers up there immediately and also do a search and rescue call out and got search and rescue personnel up there," Lohrke said. "We were able to locate the crash site which is at the top of Butterfield Canyon right near the border of Salt Lake County and Tooele County. There's also a Girl Scout Camp up there that has an enclosed fence area and I believe the crash site was pretty close to that camp. The terrain and the fencing around the area there slowed down our progress of getting to the crash site but we were able to get there and we have everything we need up there right now."
The crash also caused a small brush fire in the area.
"Our first initial rescuers gave us that information that there was a fire and the plane was on fire, and because of the brush around the area they were very concerned about that," Lohrke added.
Unified Fire Authority responded to the scene and extinguished the blaze.
The Federal Aviation Administration and National Transportation Safety Board are investigating the incident.
Butterfield Canyon is just west of the city of Herriman.