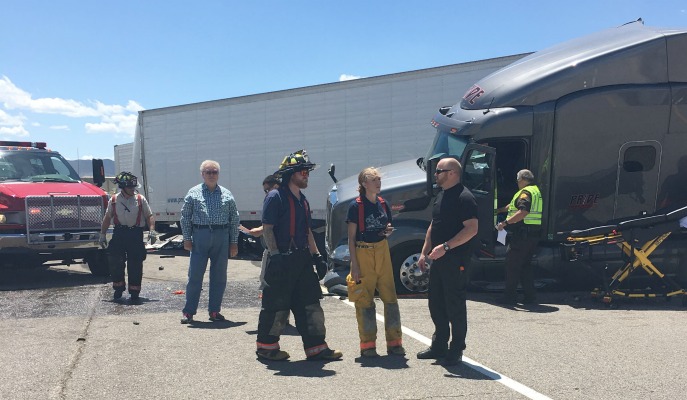 BEAVER, Utah, May 12, 2017 (Gephardt Daily) — Two people were rushed to a Southern Utah hospital after a crash involving two semis and a pickup truck with an attached camper on northbound Interstate 15 just south of Beaver.
The incident happened at about noon Friday. The pickup pulling a camper was in the right lane, and a gray Pride semi was behind it. Both were traveling slowly or were stopped at the time of the accident, according to information from the Utah Highway Patrol.
A green Well Transport semi, also headed north, did not slow for congestion, and, traveling at about 65 miles per hour, struck the gray semi, pushing it into the trailer of the pickup truck.
This impact pushed the gray semi into the camp trailer, and the green semi cab became lodged in the gray Pride trailer, trapping the passenger inside.
Responding troopers found the green semi's driver on the ground, but it was unknown if he was ejected or climbed out of the semi post-impact. He indicated his adult son was inside the semi.
Troopers were able to locate the passenger, but could only reach his arm, which he was able to move in response to their queries.
Beaver County Sheriff's Deputy Lonnie Laws, who is also an EMT, climbed into the semi, attempted to render aid, and held the passenger's hand until he was able to be extricated from the semi.
The green semi's passenger had significant injuries and was transported via helicopter to Dixie Regional.  Its driver was transported to Beaver Valley via ground ambulance. The condition of the victims is unknown.