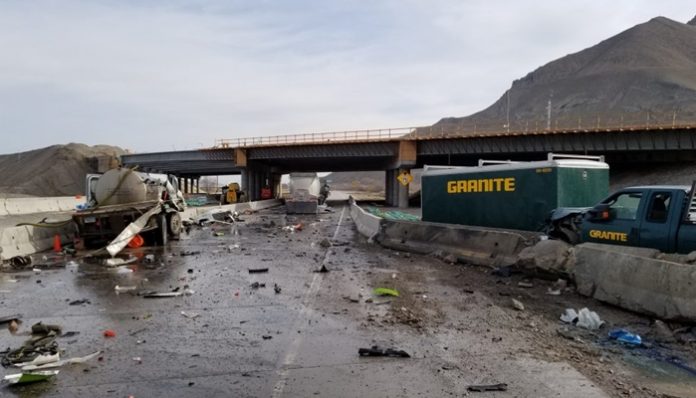 LAKE POINT, Utah, March 26, 2019 (Gephardt Daily) — Two people were injured after a portable toilet tanker collided with a commercial vehicle pulling with gravel rock on Interstate 80 Tuesday morning.
The crash happened on eastbound I-80 at the exit 99 ramp reconstruction project, near Lake Point in Tooele County, just before 9:20 a.m., according to a news release from the Utah Highway Patrol.
"A contractor for a portable toilet company was servicing the portable toilets in the construction area," the news release said. "The contractor was driving a tanker truck with a 5,000-gallon tank and attempted to drive across the eastbound lanes of I-80."
The tanker truck pulled out in front of a commercial vehicle pulling doubles loaded with gravel rock product, the news release said. The commercial vehicle attempted to avoid the tanker truck, but was unsuccessful.
"The impact caused a substantial fuel spill and the 5,000-gallon tank was breached," the news release goes on.
A passenger of the tanker truck was flown to the University of Utah hospital in fair condition with head and leg injury. The driver of the tanker truck was transported to Mountain West Hospital in good condition. The driver of the commercial vehicle was treated and released at the scene.
Both vehicles have major damage and are blocking the eastbound lanes of I-80, the news release said. All eastbound traffic has been diverted off exit 99 and is able to re-enter I-80 from SR-36.
"This hard closure will be in place for several hours for the recovery and clean up," the news release said.
Gephardt Daily will have more on this developing story as information is made available.