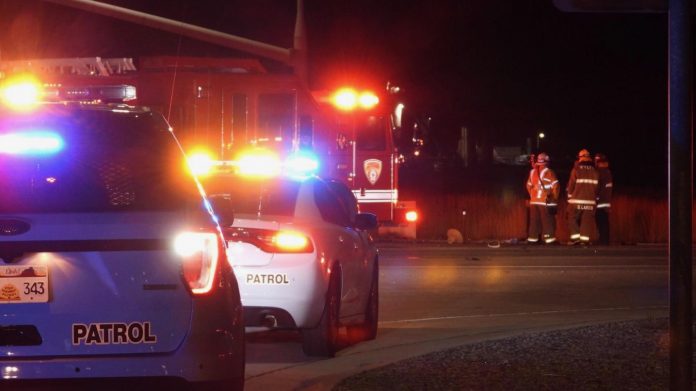 WEST VALLEY CITY, Utah, Oct. 12, 2019 (Gephardt Daily) —  Two people were seriously injured early Saturday morning when a car that fled from West Valley City police broadsided another vehicle at the intersection of 7200 West and State Route 201.
West Valley City Police Sgt. Robert Brinton told Gephardt Daily the chase began about 12:25 a.m. when a West Valley officer who had just gotten off work saw a speeding car run a red light on 3500 South.
The officer made a U-turn and attempted a traffic stop when the suspect vehicle sped off.
The patrolman gave chase for approximately 8 blocks on 3500 South before the decision was made to call the chase off as speeds reached 80 mph.
Brinton said the officer continued to follow the suspect vehicle, but at a distance, before losing sight of the car as it turned north onto 7200 West.
After other police units confirmed seeing the suspect vehicle on 7200 West, the officer involved in the chase headed the same way before coming upon a violent crash site at the intersection of 7200 West and 2100 South.
There, he found the suspect vehicle heavily damaged and on fire. Another damaged car that had been broadsided in the intersection was also on scene.
According to Brinton, the driver of the suspect vehicle was ejected from his car and suffered serious, although non-life threatening injuries. He said the fire started when the car knocked out an electrical box and a utility pole.
The female driver of the car he broadsided suffered a broken leg.
Both were taken by ground ambulance to Intermountain Medical Center in Murray.
Brinton said the driver of the suspect vehicle would likely be charged with fleeing police and driving under the influence.
Gephardt Daily will update the story as more information becomes available.