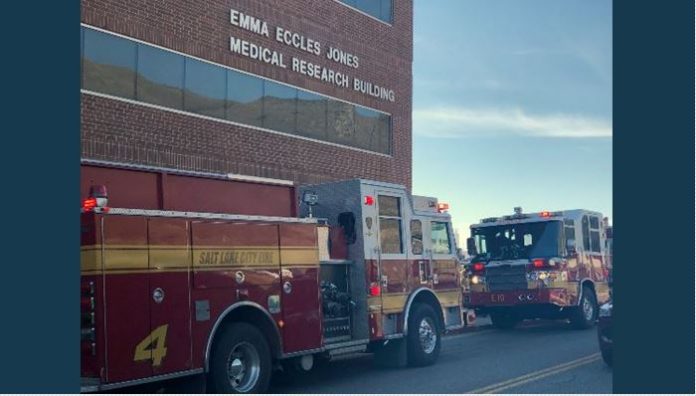 SALT LAKE CITY, Utah, March 27, 2018 (Gephardt Daily) — A chemical explosion injured two people at the University of Utah on Tuesday.
The incident occurred shortly after 5 p.m. in the third-floor laboratory of the Emma Eccles Jones Medical Research Building, 15 N. Medical Drive (1830 East).
Salt Lake City Fire Department issued a news release late Tuesday night, saying two people had chemical-burn injuries resulting from an explosive chemical reaction that included red fuming nitric acid.
RFNA is an oxidizer used as a rocket propellant.
"The victims followed decontamination protocol, self-evacuated, and walked to University of Utah Hospital's Emergency Room," the news release says.
The condition of the injured people wasn't disclosed.
Although the incident happened on the third floor, the entire building was evacuated.
Twenty-six emergency responders were dispatched to the scene, and the HazMat situation was cleared at about 7:30 p.m. Cleanup was expected to continue through the night.
U of U media relations said individuals were being allowed to pick up their things on every floor except the third floor.
"It is anticipated that those who do research onsite will be able to return in the morning, at regularly scheduled arrival times," the news release says.
The Medical Research Building "houses research laboratories and department offices for the departments of pathology and biochemistry," according to U of U's website.