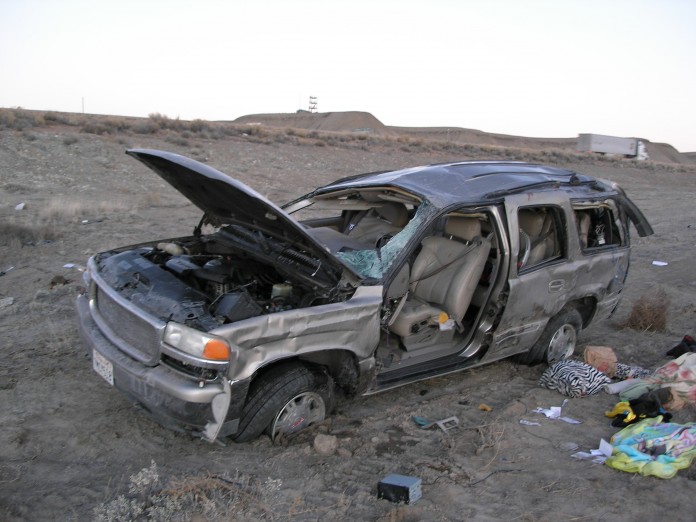 EMERY COUNTY, Utah, Dec. 28, 2015 (Gephardt Daily) — Officials have identified two people who were killed and seven others who were injured after a rollover crash on I-70 in Emery County Wednesday.
The Utah Highway Patrol said two of the injured were in critical condition after the crash near Green River on Dec. 23.
Authorities said seven of the nine people riding in the vehicle were ejected when the SUV rolled. All of the people in the vehicle are from Long Beach, Calif.
Twenty-three-year-old Maria Gonzalez and 7-year-old Victor Perez were killed in the accident. Those injured were the driver, 25-year-old Victoriano J. Perez, 1-year-old Angel Perez, 2-year-old Ivan Perez, 3-year-old Adrian Perez, 3-year-old Aileen Perez, 8-year-old Jose Perez and 30-year-old Monica Perez.
According to Sgt.Todd Royce, Utah Highway Patrol, the Chevy Tahoe veered off the highway outside Green River around 4:30 p.m.
When the driver overcorrected, the Tahoe rolled several times down a steep embankment before coming to a stop on its side.
UHP said preliminary evidence shows some seatbelt usage, but it appears that there were more occupants in the seats than there were seatbelts present.
The majority of the injured were taken by ground ambulance to St. Mary's Hospital in Grand Junction, Colo.
Two of the victims were evacuated by helicopters. One was taken to St. Mary's, and the other was flown to Castle View Hospital in Price.