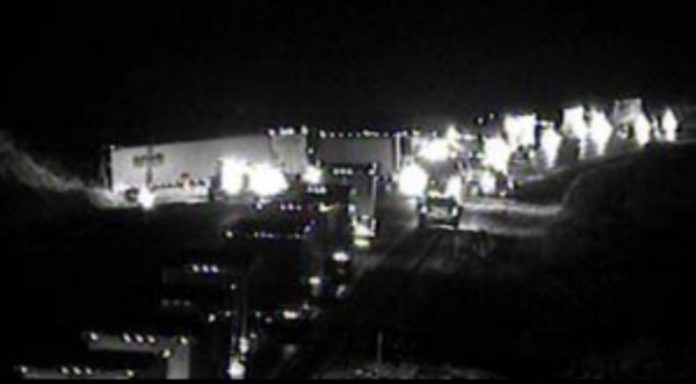 SPANISH FORK CANYON, Utah, March 16, 2018 (Gephardt Daily) — Spanish Fork Canyon was closed for two hours early Friday morning after a jackknifed semi was hit by a second semi, causing the spill of about 200 pounds of diesel fuel.
The incident happened at about 2 a.m., and the canyon was reopened just after 4 a.m., Lt. Todd Royce, Utah Highway Patrol, told Gephardt Daily.
"There was quite a lot of black ice up in the canyon last night, and early this morning, a semi jackknifed," Royce said. "It couldn't make it up the incline, and another semi crashed into the one that was jackknifed."
One driver suffered a minor arm injury, Royce confirmed. The biggest problem, he said, was the cleanup of so much fuel. Each truck spilled about 100 gallons of diesel fuel.
"It was going to take them a while to get that cleaned up because the road surface was compromised because both the black ice and their diesel fuel make that slippery," he said.
A hazmat team responded and handled the job. The semi that jackknifed was empty. The other semi was carrying Coke products, Royce said.