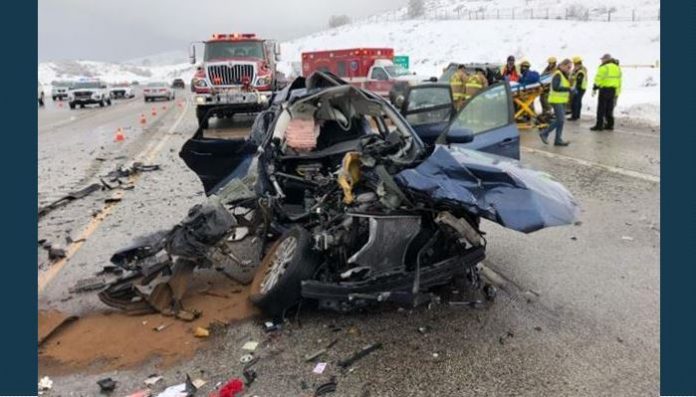 "The driver of what's left of this Sentra is in critical condition after spinning sideways out of her lane into an oncoming Yukon on U.S. 89 at the BE/Cache border," says a Utah Highway Patrol tweet posted at 10:36 a.m. Friday.
"Crews needed about 40 min to extricate the driver of the Yukon, who is listed in serious condition."
The road was reopened by 11 a.m., according to an update issued later by the Utah Department of Public Safety, which provided additional details:
"A blue 2011 Subaru Impreza (initial reports to the PIO was that it was a Nissan Sentra) being driven by a 19-year-old female was traveling southbound on SR-91 near the summit of Sardine Canyon near milepost 10.
"A black 2004 GMC Yukon SUV was being driven by 45-year-old male was traveling northbound in the No. 1 of two lanes on SR-91 near milepost 10. According to witnesses, the driver of the Subaru was traveling at a speed above the posted speed limit of 65 mph on slushy roads in the No. 1 of two lanes southbound.
"As the Subaru came into the curve at the summit she drifted toward the median and started to spin and slide across the median area into the No. 1 lane northbound where vehicle it was stuck on the passenger side by the northbound Yukon. The Subaru came to rest facing southbound in the No. 1 northbound lane and the Yukon came to rest facing west in the northbound emergency lane.
"The driver of the Yukon was wearing a seatbelt and had to be extricated. During his extrication, all northbound lanes were blocked and northbound SR-91 was closed for about 45 minutes from 09:10 until 10:00 p.m. The female driver of the Subaru was taken to Brigham City Community Hospital and transferred to Ogden Regional in serious but stable condition. She was not wearing a seatbelt and was thrown into the back seat during the crash."