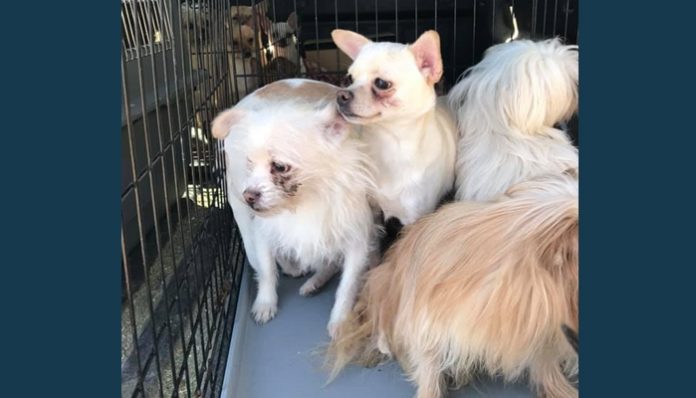 ROOSEVELT, Utah, Dec. 3, 2019 (Gephardt Daily) — A total of 25 dogs were found living in an abandoned house in Roosevelt in squalid conditions, according to a Facebook post from a local rescue group.
A post from Furever Buddy's Dog Rescue, which is based in Roosevelt, said: "If you've heard about the most recent hoarding house bust then you know that Roosevelt City Police Department and the Furever Buddy's team found 25 little dogs, locked away, abandoned weeks earlier and discovered just by chance.
"You probably know that they were found in horrific shape, living in horrific conditions and that our team of three volunteer rescuers came rushing to their aid. Wading through the piles of trash and feces, we were able to capture 25 dogs and get them to safety."
Numerous deceased dogs were also found, the post said.
"What you probably don't know is how really broken they are," the post went on. "Terrified, confused, failed by the people they trusted, born into a life that they had no choice in.
"Our team of committed volunteers went right to work, to earn their trust, to help them heal. We now have more than a dozen of these dogs, desperate for continued patience and overdue vet care, and even one Momma dog made it safely to us and delivered six healthy little babies."
It's not clear exactly how long the dogs had been in the home or who had previously lived there.
"We are a volunteer operated and donation funded rescue group," the post said. "We are only able to provide care for the animals who need it if we have the funds! Now more then ever, we are desperate for support. Our building, supplies and medical bills are piling up. Please help us by donating TODAY on this giving Tuesday so that we can keep our promise to never let these little souls feel suffering again! Thank you for your support and donations!"
The post said the group has not shared all of the pictures taken at the scene as the investigation into the situation is ongoing.
Donations can be made on Facebook here, on PayPal here, or on Venmo at @Furever-Buddys.
Gephardt Daily will have more on this story if more information is made available.