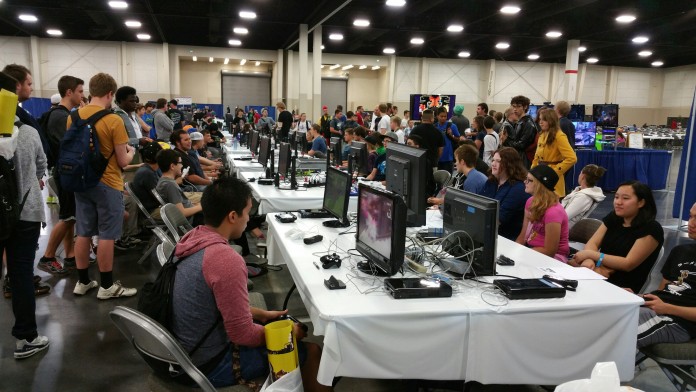 SALT LAKE CITY, UTAH – August 7, 2015 (Gephardt Daily) – Over 25,000 gamers are expected to attend the Salt Lake Gaming Con (SLGC) at the South Towne Expo Center this weekend. The event began Thursday and goes through tomorrow, Saturday.
The three-day convention focuses on video games, tabletop games, and cosplay. The convention features game developers from all over the country who will be demoing their games and running tournaments. There will also be tournaments for different skill levels.
In addition to interacting with major game developers, fans will have the opportunity to meet some of the biggest celebrities in the gaming industry. Guests include Amber Goldfarb, who has lent her voice and body (via motion capture) to several video game roles including Cristina Vespucci in "Assassin's Creed II" and "Brotherhood" as well as Aveline de Grandpré, the first female protagonist in the "Assassin's Creed" series. Also appearing is Destiny Nickelsen, a world renowned cosplayer most well-known for her iconic Harley Quinn costume from "Injustice: Gods Among Us," and Elias Toufexis, known for a variety of parts in the "Assassin's Creed" franchise and best known for his portrayal of Adam Jensen in the "Deus Ex" series.
There will also be nightly parties and concerts as part of the SLGC weekend—access to these events will be free with purchase of a three-day pass.
"As someone with a big entertainment background I am not looking at this just as another con, I am looking at this thinking how we can make this event as fun as possible for attendees. I want people to be blown away and end the weekend speechless and smiling until the next SLGC," said Jake Williams, CEO/Convention Creator.
Spokesman Aaron Hastings said: "We've got a lot of exciting things here at SLGC. Jake Williams decided he wanted to bring some of that gaming convention culture here to Utah. So far we are the largest gaming convention ever held in the state of Utah, we've had a great turnouts.
"We've got over 3,000 seats for gaming, whether it be tournaments, or whether you just want to play a game. We have more than 10 gaming demos, including Oculus Rift, E3 demos from PlayStation, local and out-of-state developers, cosplay booths, voice actors and composers. It's a great time, lots of fun."
For more information, go to http://www.saltlakegamingcon.com/