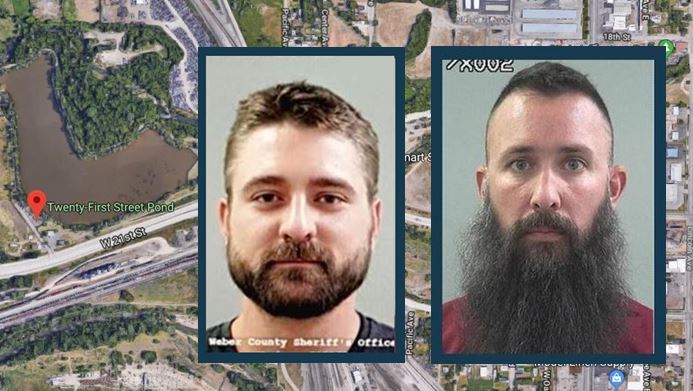 OGDEN, Utah, Aug. 27, 2018 (Gephardt Daily) — A second man has been booked for murder in Aug. 16 shooting death of a man near Ogden's 21st Street Pond.
Dalton James Aiken, 27, was booked into jail Friday on suspicion of murder — aiding and abetting, a first-degree felony; and the purchase, transfer, possession of use of a dangerous weapon, a third-degree felony.
Charged on Aug. 16 was Cory Michael Fitzwater, 35, who was booked on suspicion of murder and the same weapons charge. Fitzwater is believed to be the shooter.
Both men are charged in the Aug. 16 death of Brian Racine, 28, who was from California, but had lived in an Ogden homeless camp for about a month.
Aiken told Ogden police that he and Fitzwater "… went to the 21st Street Pond area to find and harass homeless people," his probable cause statement says.
Fitzwater and Aiken were stopped in traffic at about 3 a.m. Aug. 16 by Ogden Police officials investigating a shots-fired call. Aiken was driving and Fitzwater was a passenger in the pickup truck.
Officers found a .45 handgun on the floor of the vehicle, and took the men in for questioning because drugs also were found. Fitzwater admitted the two had been in the area of the shots-fired call, but said he didn't see anyone and didn't hear a gunshot.
At about 4 a.m., officers were called to a transient camp in the area of 500 West and 21st Street, responding to a report of a suspicious death. Camp occupants said Racine had been left alone at the camp at about 2 a.m., and that was when he was last seen alive.
Officers found a .45 caliber casing, which matched the caliber of gun seized from Aiken and Fitzwater during the traffic stop.
Aiken, interviewed later, admitted to witnessing Fitzwater shoot the victim in the head with the gun found during the traffic stop.
"The Utah State Crime Lab NIBIN screening indicated that the casing found on scene was fired from the gun seized in the traffic stop," Fitzwater's probable cause statement says.
"Due to forensic evidence, and the eyewitness testimony of DA, Your Affiant believes that Cory Fitzwater has committed the offense of murder," the statement says.