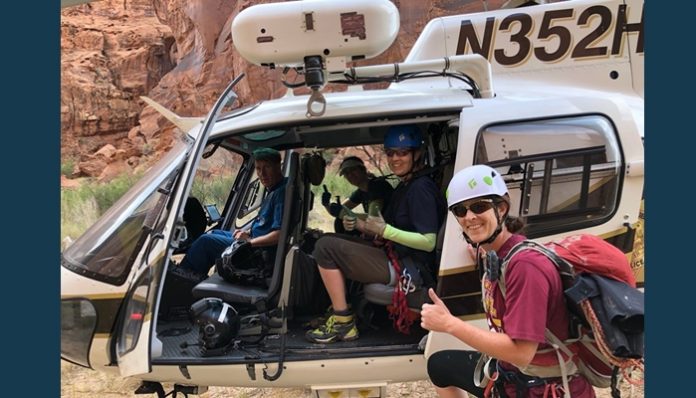 EMERY COUNTY, Utah, July 31, 2019 (Gephardt Daily) — Three sisters from northern Utah were found unhurt Tuesday evening after being reported overdue after a hike in Emery County.
"The sisters, all experienced in technical canyoneering, set out Monday morning in the Hidden Splendor area of Emery County, maneuvering a slot canyon known as The Squeeze," said a news release on Facebook from Emery County Sheriff's Office. "They had told family members that they anticipated being back to their camp between 10 p.m. and midnight on Monday, and that they would call family on Tuesday morning when they reached an area with cell service."
At 2 p.m. on Tuesday, a family member called ECSO Dispatch Center stating that the sisters were overdue. When the call came in, Sheriff Greg Funk, Captain Kyle Ekker and the State DPS helicopter crew were all in Layton at the Governor's Public Safety Summit, where the DPS helicopter was demonstrating rescue capabilities.
The DPS helicopter launched from the parking lot at the Davis Convention Center with Ekker onboard. The helicopter crew located the trio around 6 p.m. on Tuesday.
"They were walking along the Muddy River on their way back to camp at the trailhead," the news release said. "The helicopter transported the women the remaining distance to the trailhead where Emery County Search and Rescue Team members were staged in case a ground search or insertion for rescue was necessary. This search was different from most. The women were experienced, had studied the area, and had proper equipment and emergency gear including food and a water filtration system. They also had means to stay warm through the night. They had told family members where they were going and when they expected to return."
While maneuvering the canyon, conditions required more time than anticipated, officials said. 
"The women remained calm and confident, and used canyoneering best practices to work through situations and to ensure safety," the news release went on. "They spent the night on the trail and started out on Tuesday morning."
The women expressed their appreciation for the concern and professionalism of all involved, the news release said.