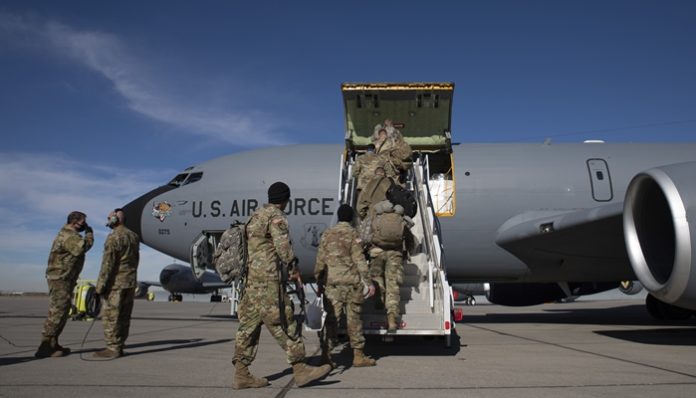 SALT LAKE CITY, Utah, Jan. 17, 2021 (Gephardt Daily) — The Utah National Guard will mobilize and deploy approximately 350 service members to Washington D.C. to support civil authorities for the presidential inauguration scheduled for Wednesday, officials said.
"The service members will be there to protect lives, preserve property, protect critical infrastructure, and the right to peacefully assemble,"said a news release from the Utah National Guard.
At the request of national command authorities, Utah National Guard service members will be flown from Salt Lake City to Washington D.C. by Utah Air National Guard's KC-135 military aircraft. All personnel will be medically ready and adhere to COVID-19 risk mitigation protocols, the news release said.
"A task force, comprised of service members from throughout the state, will assist the Washington D.C. National Guard," said Lt. Col. Clayton Anderson, commander of Utah National Guard element. "We are honored to assist local and federal partners, and appreciate the support from our family, friends and employers."
In addition, the Utah Air National Guard's 130th Engineering Installation Squadron will provide Joint Incident Site Communication Capability in support of the inauguration. The JISCC, a routine communication-support package requested for presidential inaugurations, is composed of approximately 14 airmen and communication equipment and will provide interoperability for communication systems used by supporting agencies throughout Washington.
"The Utah National Guard has responded to domestic emergencies on an unprecedented level this past year," said Maj. Gen. Michael Turley, the adjutant general, Utah National Guard. "We are proud to support our partners and serve our fellow Americans once again. Every member of the Utah National Guard is committed to our national and military values and our oath to uphold and defend the Constitution of the United States."