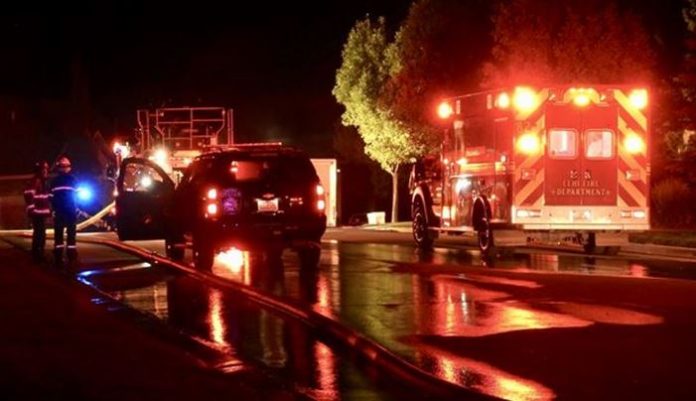 HIGHLAND, Utah, June 28, 2018 (Gephardt Daily) — Four Utah County fire agencies responded to a residential blaze in Highland overnight.
Crews responded to a home at 11738 N. Sunset Hills Drive at about 12:20 a.m. Thursday after reports of homeowners trying to fight a fire on their own.
"The report was that the occupants were home, and they had tried to put the fire out with some extinguishers prior to our arrival," Fire Chief Reed Thompson, Lone Peak Fire District, told Gephardt Daily at the scene.
"Upon our arrival, we found fire in the office area on the main floor. We ventilated the structure, put crews inside and were able to render the fire under control in about a 30-minute window."
Most of the damage was contained to the first floor office, Thompson said, "however there's smoke damage throughout the home."
No firefighters were injured, but Thompson said the homeowner did have smoke inhalation, and was treated at the scene and released.
Investigators were expected at the scene to evaluate the cause and damage.
Agencies that provided the 23 firefighters and equipment, including ladder trucks, engines and paramedic units, included Lone Peak Fire Authority, and the Lehi, American Fork and Pleasant Grove Fire Departments.
The four often work together to make the most of their resources, Thompson said.