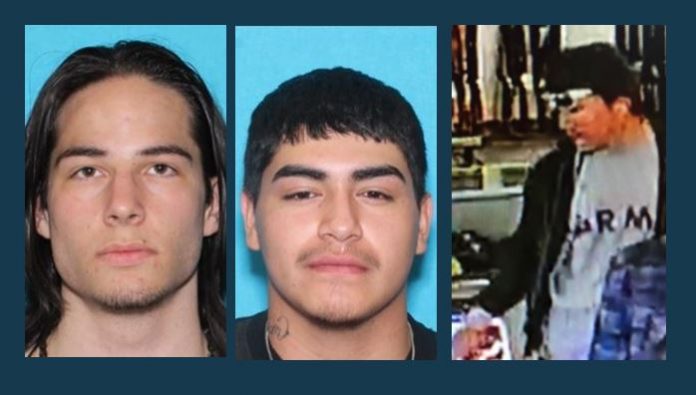 CLEARFIELD, Utah, Oct. 17, 2018 (Gephardt Daily) — Clearfield police have identified three suspects wanted in connection with a gun theft case, and are hoping to ID a fourth at-large suspect.
Being sought in the case are 19-year-old Alex Chavez; 18-year-old Gabriel Rivas; and a third suspect captured on surveillance, but as yet unidentified.
In addition, police are looking for a male juvenile whose name they know, but whose information and photo are not being released because of his age.
"The suspects should be considered armed and dangerous. The Clearfield Police Department is asking for the public's assistance in locating the suspects," a statement from the department says.
"If the suspects are seen please do not approach the males and call the Clearfield Police Department."
Overnight, officers were able to locate the vehicle believed used in the crime — a white 2013 Volkswagen Passat.
Police were notified of the thelf just after 3 p.m. Wednesday, and responded to the scene, Instant Cash and Loan, 437 N. Main St.
"Four males entered the business and began looking at items inside the store," the police statement says. "One male pawned a chain saw while the other three males remained in the store looking at the displayed firearms. While the employee was assisting the male pawning the chain saw, another male reached around the counter and (took and) concealed a handgun. Shortly thereafter, a male grabbed a rifle and concealed it in his clothing."
The Clearfield police say the males got away with a Bushmaster M4, .22 caliber rifle and a Springfield XDM .40 caliber handgun.
Witnesses in the case provided a description of the four males who ran from the business.
The Clearfield Police Department asks that anyone with information about the identified or unidentified suspects, or who believes they have seen any of the suspects dial 911 or contact the CPD at 801-525-2806.