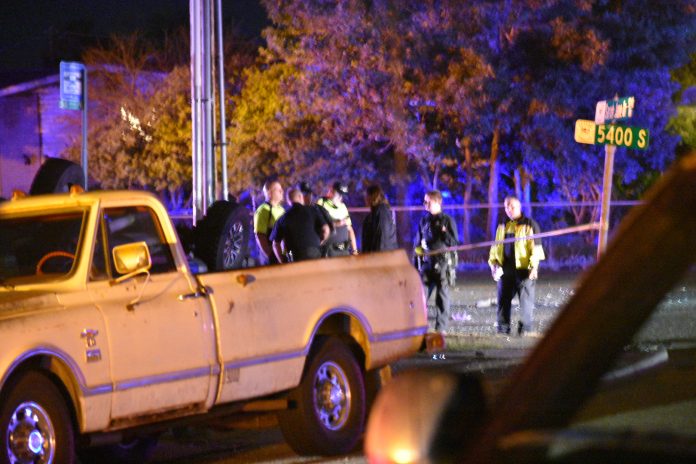 KEARNS, Utah, Sept. 20, 2017 (Gephardt Daily) — Four people, including a juvenile, have been arrested in connection with a drive-by shooting that led to two deaths in Kearns Tuesday night.
According to a police probable cause statement, Jose Luis Munoz-Lugo, 24, Argenis Daniel Ramirez-Saed, 19, and Rosalia A. Alvarez, 19, have been booked into the Salt Lake County Jail charged with two each counts of first degree homicide and five counts of felony discharge of a firearm.
An unnamed 17-year-old has also been charged in the case and booked into the county's juvenile holding facility.
The deadly chain events began about 7:30 p.m. Tuesday when shots were fired from a blue pickup truck at a home located near 5400 South and 5280 West. Police initially believed the shots were fired at a pedestrian.
Police say the truck was speeding away when it struck a white passenger vehicle, then rolled into the yard of a nearby home.
When Unified Police officers arrived they found two people dead inside the white passenger car and a two others injured inside the blue pickup, one of whom had been shot in the leg.
Investigators were unsure if he had been shot by people returning fire from inside the house or whether he'd accidentally shot himself.
Two other people were seen running from the blue pickup after the crash triggering a massive search effort in the surrounding neighborhood.
Both suspects were ultimately captured and taken to jail.
The chain of events leading up to the shooting and crash are unclear, although police say it was gang-related.
The victims have been identified as Kearns residents Tami Lynn Woodard, 50, and Lloyd Everett Pace, 55.
Police say they were merely innocent bystanders.