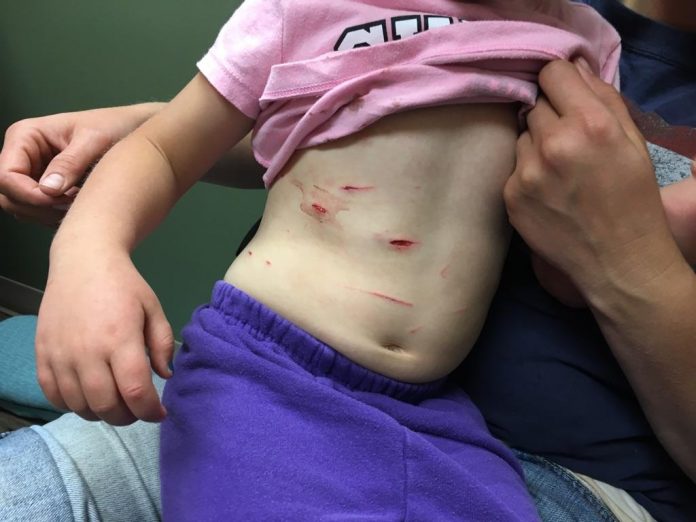 BLACKFOOT, Idaho, Aug. 16, 2016 (Gephardt Daily) — Little Kelsi Butt is now "more or less 100 percent back to normal," her dad says, four days after the 4-year-old's Aug. 12 encounter with a mountain lion.
The Butt family — dad Israel, mom Kera and their three children, son Kegan, 8, and daughters Maylie, 7, and Kelsi — were at a family reunion, camping with grandparents, aunts, uncles and cousins, near Green Canyon Hot Springs, east of Rexburg, Idaho.
The weekend of outdoor fun took an unexpected turn Friday night, when Kelsi was attacked by a 90-pound young male mountain lion that had been lurking in the wooded area.
"We usually have family reunions up there, camping at Hot Springs Campground," Israel Butt told Gephardt Daily, "but this year we decided to go higher up."
The area was a little more remote, with fewer people around than at the campground. Kelsi's mom thought she saw the cat earlier in the day and mentioned it to other family members. But the woods are full of wildlife, no one else had seen the animal, and cats generally avoid human beings, anyway, so there seemed to be no cause for concern.
Later that night, though, Kelsi and one of her cousins were outside her tent when the animal struck. Kelsi's cousin screamed, alerting the other family members. The young cat had snatched Kelsi and would have dragged the child away, but, fortunately, it couldn't get enough of a grip on her. Instead, the animal took off as Kelsi's mom and the other adults ran toward it.
Kelsi's dad had been with his family Friday until later in the day, when he headed home to take care of their animals and property. He learned of the attack in a phone call.
"Uncle Chad came down Green Canyon to where a cell phone boost is available and called me," Israel said. "My first reaction was, 'Are you pulling my leg?' I mean, I couldn't imagine what he was telling me."
As the reality sank in, Israel felt somewhat reassured as he was told that Kelsi was going to be all right and her injuries were not too severe. Chad said he would call Idaho Fish and Game to report the incident.
The family always keeps first-aid kits in its vehicles, so Kera tended to her daughter's wounds with disinfectant and bandages. Kelsi was then taken to Eastern Idaho Regional Medical Center.
"They gave her antibiotics and started her on rabies shots," Israel said. "They were mostly concerned about infection, more than rabies."
Israel said Kelsi is better now, sleeps pretty well and talks with her siblings.
"She had a night when she didn't want to go to sleep," he said, "but what 4-year-old does want to go to bed? I laid down with her to help her sleep, and she dropped off in two minutes."
As of Monday night, he said, Kelsi is pretty much 100 percent back to normal.
As for her siblings, "Neither of the other kids saw (the attack). Her cousin saw it and explained what happened to the adults."
The Butt family lives in Blackfoot and has always enjoyed the outdoors. This experience hasn't soured that enthusiasm. Israel said they all went back to the campsite the next morning and, although everyone stayed close together, "The kids took a little hike with their grandma to kind of loosen them up. The last thing you want is for your kids to be afraid of everything. Just remember to teach them to always have a buddy with them and to look around and be aware of their surroundings."
"We feel incredibly blessed and very much watched over and protected," Israel added. "Without divine intervention, we would not have our daughter today."
Things didn't end so well for the mountain lion. Even after Kelsi had been cared for and was in the camper, Israel said, the cat was still in the weeds, watching.
Kelsi's grandpa got a gun from one of the cousins who lives nearby and stood guard. The Idaho Department of Fish and Game responded to the scene, and the cat was eventually shot by a Madison County Sheriff's officer.
So how concerned should we be about being attacked by wild animals?
Gregg Losinski, regional conservation educator with Idaho Fish and Game, told Gephardt Daily that such attacks are "actually pretty rare. Every state in the West has one or two attacks a year, and fatalities are more rare."
"Cats are everywhere in the woods," Losinski said, "and they generally don't want to mess with people."
If you do encounter a wolf, wildcat or black bear, Losinski said, "Don't run. Make noise, make yourself look big. And if you're actually attacked, fight back. Respond with force. If you run or play dead, that animal will think it has won the fight, and you will lose."
At times, a large, well-trained, protective dog can be helpful while camping or on the trails, but Losinksi wants people to keep in mind that "wolves don't distinguish between dogs and wolves from another pack, which they will want to kill."
There are times when a dog is actually a problem, he said, because it may attract a predator and even lead it back to the campsite — and you definitely don't want a dog to confront a bear.
Losinski said firearms are also questionable, and there are more effective ways to deter an animal attack.
"Use bear spray. It's used in Yellowstone to control bison, and is far more effective with fewer negative results (than guns)," he said. "And noise is good. Kids are always making noise anyway, and it's important to clap or sing, so you don't startle a wild animal. Hunters have the greatest potential for startling wildlife, because hunters are being quiet, hiding their scent, disguising their scent."
The main thing, he said, is to "be aware, be smart, and be respectful of nature."