SALT LAKE CITY, Utah, April 19, 2016 (Gephardt Daily) — While many people collect all sorts of keepsakes at weddings, one Utah woman's quest to catch the bouquet ended up gaining her international attention and a Guinness World Record.
Jamie "Bouquet Slayer" Jackson of Salt Lake City has caught 49 bouquets from the more than 80 weddings she has attended in her lifetime. She caught her first bouquet in 1996, and said she never started off trying to catch as many as she could. It just happened.
"There have been a couple of brawls," Jackson said. "One where my identical twin sister had to pull me away, begging me to just let it go. Iremember it was out on the lawn."
Jackson lost that battle, but the memory of it all still provides her with a good laugh.
Jackson said she considers it to be more of an Olympic sport and does it solely to add to her count, not for the next chance to be the one to get married.
She is shocked at how many people become interested in her story, she said. Jackson has received calls from all over the world, including Australia, and the U.K., not to mention a call from the producer of "Ellen."
"I love the idea that others are interested in the story, but I never intended for this to get so big," Jackson said. "I think that it's great to focus on positive and fun stories once in a while, so I am glad to be able to be a part of that."
Jackson first contacted Guinness in 2004 to learn its requirements, because she knew she already had more than the current bouquet holder's record of 11.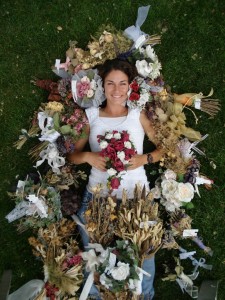 She was told at the time all that was required were photos of her at the wedding with the bride and bouquet, and a hand-written note from the bride saying she invited Jackson to the wedding and was the one who caught her bridal bouquet.
"Once I knew the guidelines, right after the toss I'd grab a napkin and a pen and the bride would fill out the note right there before they left," Jackson said. "Made it easier, so I wouldn't have to track them down later."
Jackson applied to Guinness World Records on Feb. 11, 2015, and after a grueling 12 weeks of waiting, she was told what she had was no longer enough documentation.
"I had worked so hard to gather all the photographs from brides, their parents, video footage and notes, but come to find out they needed some extra stuff they had changed since I had contacted them," Jackson said. "I needed each bride to fill out their official Guinness documents — witness statement — as well as a second witness — steward statement– of someone who saw the bouquet toss happen."
Jackson kept going, trying hard not to get discouraged, and within 11 months she was able to collect the additional 98 documents, all hand written and filled out by each bride and a second witness.
"It was a large feat they were asking of me, but I knew if I wanted this record I was going to have to bite the bullet and just push through," Jackson said. "So again, I had to track down all the brides, beginning with the first one back in 1996."
When asked if she felt it was all worth it, Jackson said absolutely.
"I literally jumped up and down and said halle-freaki-lujah out loud when I heard the fabulous news that they accepted them all and it was official," Jackson said. "To have such a long-time goal in the works and the sense of success and accomplishment that I have crossed the finish line feels absolutely amazing."
Jackson said she could not have done it without the help of all the brides, friends and family who helped fill out all the required documents, helped track down photos or video footage, and who put up with her for 12 years, asking over and over again for help.
"Lesson for life: If you want something bad enough and put forth your absolute best, success will be yours," Jackson said. "And as Nike put it perfectly 'Just Do it.'"
For those wondering if all those weddings have gotten Jackson any closer to a wedding of her own, Jamie says while she loves attending weddings because they are fun, she is still single.