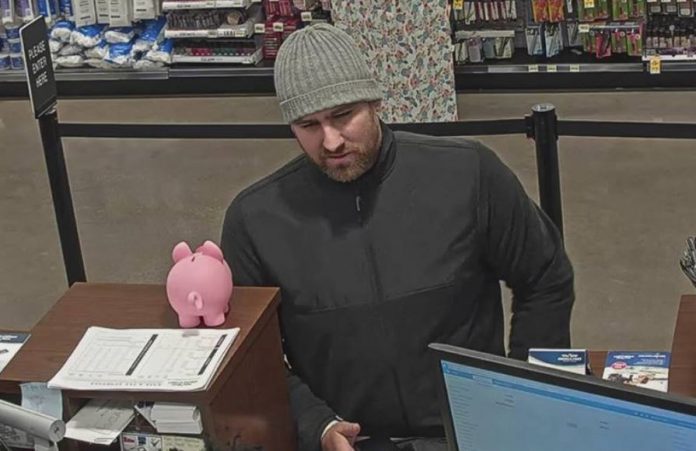 ST. GEORGE, Utah, Nov. 8, 2017 (Gephardt Daily) — The St. George Police Department has released exceptionally clear surveillance photos of a man wanted in the robbery of America First Credit Union.
A panic alarm went off at 6:51 p.m. Wednesday, and the St. George Communications Center learned at 6:55 p.m. that a robbery had occurred at the credit union, inside Lin's Market at 2928 E. Mall Drive.
"The suspect verbally threatened the bank teller, stating he had a gun but he never showed the gun to the victim," said a notice posted on the St. George Police Department's Facebook page. "No one was injured. The suspect was last seen leaving through the front doors of Lin's."
Besides the SGPD, agencies to respond were the Washington City Police, the Washington County Sheriff's Office, and the FBI.
The suspect is described as a white man in his mid-20s, about 6 feet tall, with a medium build and a medium-length beard. He was wearing a gray knit hat, a black jacket and pants, and brown shoes.
Anyone with information regarding this incident or the suspect is asked to call dispatch at 435-627-4300 and reference incident 17P027673.