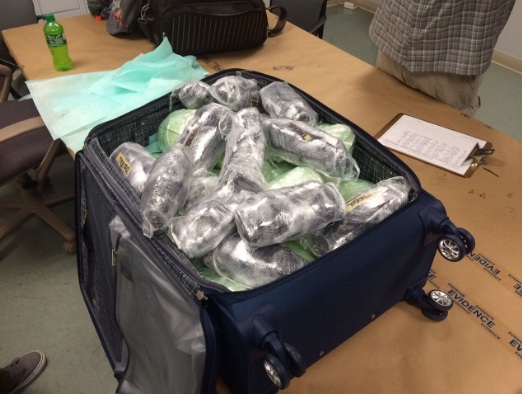 SALT LAKE CITY, Utah, Aug. 17, 2016 (Gephardt Daily) — A tip from Homeland Security resulted in what police believe to be the largest-ever seizure of methamphetamine in the state of Utah.
Sixty-eight pounds of methamphetamine was discovered at about 5 p.m. Tuesday, hidden in a large suitcase in a northbound vehicle on I-15 at 8500 South, Unified Police Department Lt. Lex Bell said in a prepared statement.
The street value of the meth seized is over $2 million.
The driver, Blake Arcand, 56, of Canada, was arrested and booked into the Salt Lake County Jail on state charges.
UPD Taylorsville Street Crimes detectives had previously been contacted by Homeland Security investigators, who had information that a vehicle carrying a large quantity of methamphetamine was travelling through Utah on its way to Canada.
A UPD officer then made a traffic enforcement stop on Arcand's vehicle for following too close to another, giving the officer reasonable suspicion to conduct the stop.
The news release said the traffic stop was conducted on I-15 in Midvale with the assistance of a Midvale Precinct patrol officer and UPD K-9 units. The narcotics detection K-9 alerted officers to the presence of narcotics in the vehicle.
Arcand will ultimately be charged federally with drug trafficking crimes. Arcand does have a history of smuggling narcotics into Canada from the U.S., police said.
Also located in the suspect vehicle were several brand new backpacks and a note pad with several cities in Wyoming and Montana written on it. Investigators believe Arcand was going to deliver part of his load of methamphetamine to each of these cities, using the backpacks to hand off the drugs.
"The seizure is the largest ever of methamphetamine in the state of Utah, to our knowledge," Bell said."This is a great example of teamwork between federal and local law enforcement and a fantastic job by all UPD detectives and officers in locating the car and conducting a successful investigation and seizure."