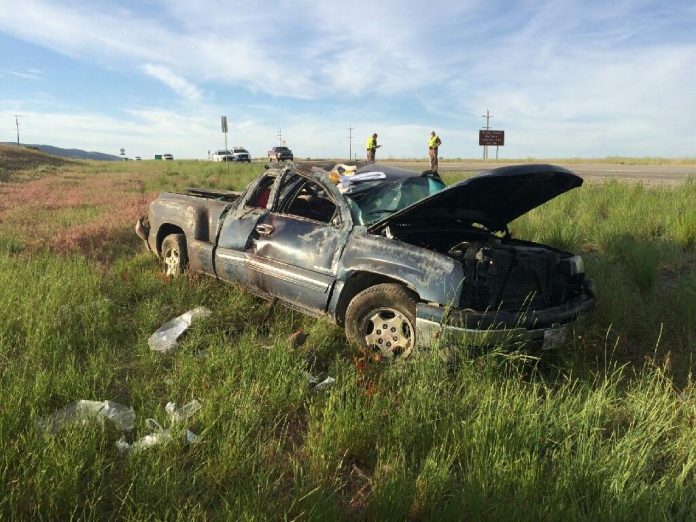 BOX ELDER COUNTY, Utah, June 9, 2016 (Gephardt Daily) — A 7-year-old boy is dead after he reportedly suffered a seizure shortly after being in a rollover crash on Interstate 84 in Box Elder County.
According to Utah Highway Patrol, a family was driving north on 1-84 at 5:20 a.m. Thursday when its blue 2000 Chevrolet Silverado drifted off the roadway and rolled multiple times. The crash occurred about 15 miles west of Tremonton, near milepost 26.
The 7-year-old boy was pronounced dead at the scene when first responders arrived.
According to witnesses, after the crash, the 7-year-old boy was out of the vehicle and was observed in the emergency lane attempting to flag down passing cars by the first person to pass the scene and stop. The boy was able to flag down two passing semi-trucks.
Prior to emergency medical services or law enforcement arriving, the boy collapsed and had a seizure. The first EMS responders performed CPR on the boy with no success and he was pronounced dead. It is unknown whether the seizure was related to possible injuries sustained in the crash.
The boy's grandmother had a severe head injury from the rollover, and was taken by air ambulance to McKay-Dee Hospital in Ogden.
The boy's grandfather, the driver of the vehicle, and the boy's 10-year-old sister were transported to the hospital by ground ambulance but were not seriously injured.
The 7-year-old boy has been identified as Joey Garza from San Juan, Texas. His sister has been identified as Valerie Garza, also from San Juan.
The driver of the vehicle was Praxis Garza-Salina, 66, and the passenger was Irma Garza, 65, both from Edcounch, Texas.
The family was traveling from Texas to Washington to spend the summer with their father, and driver fatigue is being investigated as a possible factor in the accident. Speed does not appear to be a factor. The family left Texas on Wednesday morning en route to Washington.