SALT LAKE CITY, Utah – March 20, 2016 (Gephardt Daily) — Critics of presidential hopeful Donald Trump regularly denounce him for what they see as his bombastic rhetoric.
And at this point in his campaign, it's not exactly breaking news that his style strikes many as pompous, hostile and confrontational.
But some things Trump said Friday to listeners at his Salt Lake City rally still had people incensed the next afternoon.
"Do I love the Mormons? OK? Do I love the Mormons?" Trump said to listeners in the city that is home to the worldwide headquarters of the Church of Jesus Christ of Latter-day Saints.
"I have many friends who live in Salt Lake," Trump said. "… I have lot of friends who are Mormons. By the way, Mitt Romney is not one of them…. Are you sure he's a Mormon? Are we sure?"
Trump's questioning the faith of Romney — a former governor of Massachusetts and Republican nominee for the 2012 presidential race — was a topic of heated debate on Saturday afternoon at a Provo rally for Texas Sen. Ted Cruz, also running for the Republican presidential nomination, and for Utah Sen. Mike Lee.
"I need to say this, OK?" said Utah Lt. Governor Spencer Cox at the rally. "Last night, Donald Trump came to our state. Last night, Donald Trump did something and said something I never thought I'd see a candidate for president do and say, especially in the Republican party.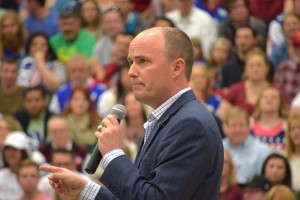 "He was challenging Mitt Romney, and he was questioning Mitt Romney's Mormon faith," Cox said. "Think about that for a second: A person running for public office in our party think's that if you question his politics, he can question your religion.
"I have a message for you from three million people in Utah, Mr. Trump: That's not how we roll in Utah, and that's not how we roll in the United States."
Cox, a member of the LDS Church, also paraphrased a passage from "The Book of Mormon," which members of his faith hold as divine scripture.
"I know that Donald Trump spends a lot of time in 2 Corinthians," Cox said, referencing a book of the New Testament.
"Some of us here in Utah have another scripture. It's found in 2 Nephi, and it says something about 'Woe be unto the liars.' And I'll leave it at that."
Glenn Beck, a conservative radio show host, 2000 LDS Church convert and a onetime Provo resident, also talked Saturday's political rally about the same religious topic, "The Book of Mormon." Beck said he believes every word of it.
"That book spells out in great detail what things look like before the Lord comes back, and he gave us that book so we can protect freedom here," Beck said. "He also gave us that book so we would know what to do at the time. You either believe that or you don't."
And for those who do and who are members of the LDS Church, and hold the male-only priesthood, Beck issued a call to action.
"… then let the priesthood lead," Beck said. "Priesthood holders, stand up and take your staff. You are the guardian at the gate."
Beck told all his listeners he will vote from Republican nominee Cruz, but his priesthood statement was not meant as a call for priesthood holders to to vote for Cruz.
"It has nothing to do with who you should back," he told the LDS priesthood holders who were present. "You bring that to the Lord. That's his decision with you and the priesthood."
Update
The Trump/Romney/religion saga continued Sunday, when the candidate was questioned on ABC's "This Week."
Asked by host George Stephanopoulos about why he kept challenging people's religious faith, Trump said he was joking, but doesn't care how people take the comments.
The exchange:
Stephanopoulos: "You know, after the pope spoke out about you, you said that no leader should question another person's faith, so why do you keep on doing it?"
Trump: "Well, with Mitt Romney — first of all, with Mitt Romney, I was saying to the Mormons — the Mormons are very smart people, and I said it in a joking way, but they can take it any way — you can take it any way you want. The Mormons are very smart people. I know many Mormons.
"I don't think Mitt Romney is a smart person. I never have thought he was a smart person. But the Mormons are very smart people.
"So I said, 'Are you sure he's a Mormon?' And I'm not going to change it, because I think Mitt Romney has proven to be not a smart person."