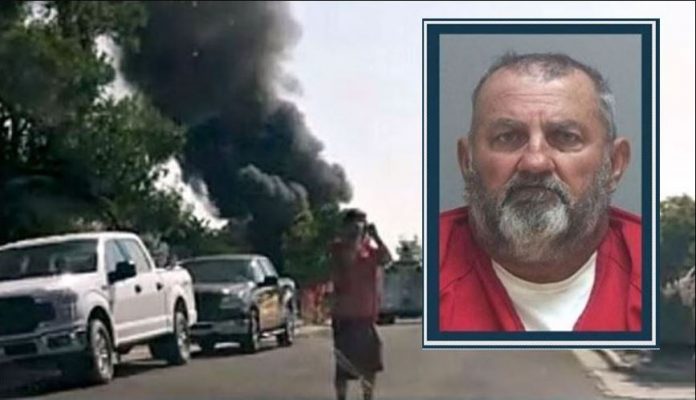 WEST VALLEY CITY, Aug. 24, 2018 (Gephardt Daily) — Accused murderer Kevin Billings appeared before a judge Friday morning, via closed-circuit television, as his attorney entered not guilty pleas on his behalf.
Billings, 64, pleaded not guilty to 13 felonies, stemming from an Aug. 9 case in which code-enforcement officer Jill Robinson, 52, responded to Billings' residence, and was shot in the head and killed.
Her city truck was burned with the use of an accelerant, which also was found on Robinson's body, and at the home of the neighbors, whose residence burned to the ground, killing pets trapped inside.
A chain link fence between Billings' yard and his neighbors' had been cut in an area Billings had cleared the day before.
Charges against Billings are:
Aggravated murder, a first-degree felony
Aggravated arson, a first-degree felony
Arson — property of another, a second-degree felony
Abuse or desecration of a dead human body, a third-degree felony
Five counts of recklessness — incendiary device, a third-degree felony
Four counts of aggravated cruelty to an animal, a class A misdemeanor
Chain of events
West Valley City police and fire officials arrived on the scene at 10:21 a.m. on Aug. 9 after reports of multiple fires and shots fired. They found Robinson's assigned city truck fully engulfed in flames, according to an updated probable cause statement.
They also found Robinson's body, in her code compliance officer uniform and wearing her badge, in Billings' driveway, and the neighboring house, at 4112 W. Wendy Ave., on fire.
"Medics noticed Ms. Robinson had burn marks on her lower extremities consistent with an accelerant or other flammable substance being applied to the body, then lit on fire," the statement said. "The burns were inconsistent with fire spread through radiant heating."
In an earlier version of the probable cause statement, it was noted that a witness reported seeing Billings, who has a documented history of code violations, being active at the crime scene.
"A male, later identified as Kevin Billings, was observed by a witness pouring what they believed to be gasoline around a West Valley City Compliance truck, which he then ignited. Several other witnesses observed Billings in the driveway of his residence at 4102 W. Wendy Ave. as the fires burned and the female lay deceased."
Neighbors' nightmare
Ryan Luke was working in his home office at 4112 W. Wendy Ave. when he heard an explosion and felt a concussion from the blast, the new probable cause statement says.
"Mr. Luke went downstairs and saw thick, black smoke coming through his back window, which had been broken out," it says.
"Mr. Luke exited his home and saw that a truck in front of the house of his neighbor, Kevin Wayne Billings, was also on fire, and observed Ms. Robinson's body in Billings' driveway.
"Mr. Luke stated Billings recently contacted his wife and accused them of calling Code Enforcement on him."
Luke suffered smoke inhalation and lacerations to his hands due to the fire at his residence. His wife, Bountiful veterinarian Steph Sheen, was not home at the time of the fire.
"Mr. Luke had five dogs and one cat," the statement says. "The remains of four dogs were located in Mr. Luke's residence."
More evidence at the scene
Officers and firefighters at the scene reported finding "a large hole cut meticulously through the chain link fence separating Mr. Luke's property from Billings' property," the probable cause statement says. The hole was not there earlier in the day, Luke said.
"Mr. Luke noted that he had seen Billings clearing the thick vegetation from that portion of the fence several days prior. Officers found bolt cutters on a shelf of Billings' property near the hole in the fence."
Fire investigator P. Larsen told police detectives that the burn pattern of the fire at 4112 W. Wendy Ave. indicated the fire started outdoors and moved inward. The fire originated on the back deck, outside the house.
A propane torch and five gallon gas cans were located close to the area where the fire originated, the statement says. The residence and a detached garage were total losses due to fire damage.
"An accelerant detection dog searched the remains of the West Valley City F150 truck," the probable cause statement says. "The dog alerted to the possible presence of ignitable liquid on debris near the back passenger side, debris near the driver's door, and on the back bumper."
The city truck and its equipment, valued at approximately $32,500, were a total loss as well, the statement says.
Victim was summoned to murder scene
Investigators spoke with C. Kenney, West Valley City Ordinance Enforcement Supervisor, who told them that Robinson had mailed Billings a "notice of violations" dated July 24 of this year.
The letter detailed the ordinance violations at Billings' residence, and included instructions on how to request a new compliance inspection once issues were resolved. The failure to do so by Aug. 6 would result in a daily fine of $50 starting Aug. 7.
Kenney stated that a compliance officer would have no reason to return to the home unless summoned by the homeowner. Phone records show that Billings placed a call to Robinson's office number on Aug. 8, the day before she was shot to death.
On Aug. 10, Dr. Z. Michalicek, assistant Medical Examiner with the Utah Office of the Medical Examiner, performed an autopsy on Robinson's body.
Preliminary results indicate her cause of death to be a single gunshot wound to the head. Her manner of death was found to be homicide.
An earlier probable cause statement says a witness reported hearing Billings say, "After 40 years of harassment, the bitch got what she deserved."
Bail was not addressed at Billings' Friday hearing, so he will remain in custody. His next court date is set for Sept. 4.