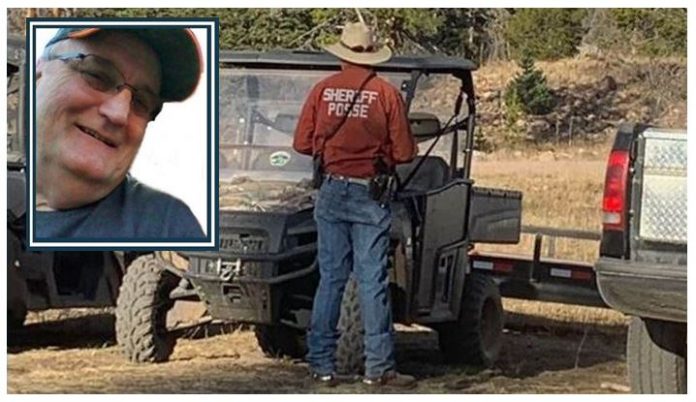 SUMMIT COUNTY, Utah, Oct. 21, 2019 (Gephardt Daily) — The Summit County Sheriff's Office said Monday morning the active search for missing 69-year-old hunter Carl Crumrine has come to an end as heavy snow fell in the area and temperatures plummeted.
The command post located some two miles from Crumrine's last known location was closed down Sunday due to weather conditions, but Summit County Sheriff's Lt. Andrew Wright said rescue crews will still be made available to search areas if there are any possible sightings.
A Facebook update from SCSO Monday morning said: "Sheriff Justin Martinez extends his sincere gratitude to the Summit County Search and Rescue and countless other agencies and personnel who have assisted in the search for Carl Crumrine. Our hearts go out to the friends and family of Carl as we work to bring closure. If anyone has information regarding Carl's disappearance, we urge you to call us at 435-615-3600."
Carl Crumrine's son Paul, who arrived in Utah Thursday from West Virginia, posted on Facebook Sunday afternoon. His post appears below, with his permission:
"There's 15 inches of snow up there today with another storm coming in, it's windy and cold and the forecast does not look like it's going to melt anytime soon. It's not safe for anyone to remain up there. I'm not giving up hope he's still alive because we just don't know and there is still hope. But I can't ask anyone to put their own lives at risk.
"The Summit County Rescue Team plus their brothers and sisters from across the state came together to help a stranger they've never even met. I did not expect to see the emotions I've seen from these great individuals whom for many volunteer their time, that I witnessed. I don't blame anyone who he hunted with for him getting himself lost. He was given the proper instructions for where he was supposed to walk and when to radio communicate. I ask everyone to continue to pray for my dad's safe return but full operations have been halted at this time."
Crumrine has been missing since last Monday, when he and a group of friends went hunting in the Lyman Lake area of the Uinta-Wasatch-Cache National Forest. His friends became alarmed when Crumrine did not return to the designated meeting place.
Summit County Search and Rescue crews responded that night, and they, helped by people from other agencies, have been on the job every day since.
On Thursday night, crews reported that several inches of snow had fallen in the search area and plummeting temperatures increased the danger for all involved.
Crumrine was visiting from Buckhannon, West Virginia.
Paul Crumrine told a West Virginia news station, WDTV, that his father was an experienced hunter and was prepared for emergencies.
Search dogs and National Guard helicopters were participating in the search, he said.
Photos released by the Summit County Sheriff's Office revealed that ATVs and horses were also on site.
A GoFundMe account has been set up to cover travel costs for Carl Crumrine's family; the rest of the donations will be given to the Summit County Search and Rescue Team.
Gephardt Daily will have more on the search as news breaks.