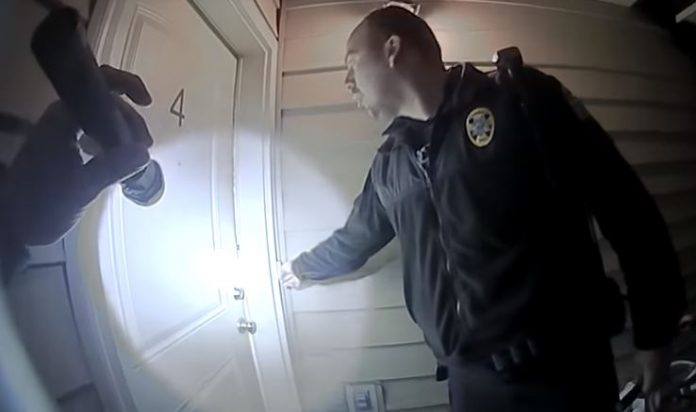 WEBER COUNTY, Utah, April 6, 2019 (Gephardt Daily) — After the release of an extended body-cam video, activists are demanding investigations and action against the police who shot a knife-wielding man 11 times during a domestic violence call in Harrisville.
Just before midnight on March 22, officers from multiple agencies responded to a Harrisville apartment building and confronted the man, who was shot after he disregarded multiple orders to disarm and surrender.
Utahns got their first look at the violent and explicit video earlier this week. The Utah Chapter of Black Lives Matter is calling for the release of videos from additional police body cameras, and the firing of the officers involved.
"These police need to be fired, arrested and imprisoned for the rest of their lives," says an administrator post on the group's Facebook page. "We want ALL the footage. We are launching a calling campaign shortly."
Page administrator Lex Scott has said in multiple posts that she has been in close contact with the family of the shooting victim, whom she identifies as Jamal Bell.
"I now have permission to tell you what those police did to Jamal," Scott wrote. "He is 100% sure that he wants this released to the public. We need to thank Jamal for his bravery in this matter. It takes true unadulterated bravery for him to allow me to tell you what I am about to tell you. This is what police did to Jamal:
"They unloaded their clips into his crotch and then they reloaded their weapons and kept shooting. This is disgusting, but it is especially disgusting because of the history of how police and lynch mobs emasculated black men in the past. We are not going to go into the graphic details of his exact injuries, but this is so dehumanizing on too many levels to count."
Scott has also reported that Bell has undergone several surgeries, and has been moved out of the intensive-care unit where he spent his first days.
A statement from the Ogden NAACP calls for a "full and complete review of local resident Jamal Bell," the news release says, in part. "The incident resulted in Mr. Bell being shot 11 times by officers."
"With the release today of one of the body cam footages, we are still left with more questions and serious concerns about how this incident was handled and the resulting use of force."
The released video
A message from the Weber County District Attorney's office says that only one video will be released for now.
"The Weber County Attorney's Office has determined that one of the body camera videos covering the incident will not reasonably interfere with the investigation," a notice says.
The video is full of graphic images many will find disturbing. It shows the shooting, and an extended period of Bell groaning and wailing in extreme pain. Officers use expletive-laced language.
It shows action including officers yelling through a previously broken door, and encountering Bell, who is holding knives. They unsuccessfully use a Taser on him, then fire on him over a period of four to five seconds.
With Bell on the floor, the video continues as officers summon an ambulance crew, then try to ease Bell's labored breathing by changing his position. One officer calls him "buddy," and urges him to stay with them.
In this video, we see Bell being loaded onto a stretcher for transport to McKay-Dee Hospital, and on-scene officers asking each other if they are OK. One officer hugs another. The officer wearing the camera debriefs to another officer, then heads to his patrol car.
This is the full recording, longer than those released by other media outlets.
To view the unedited body camera recording, click on the player below.