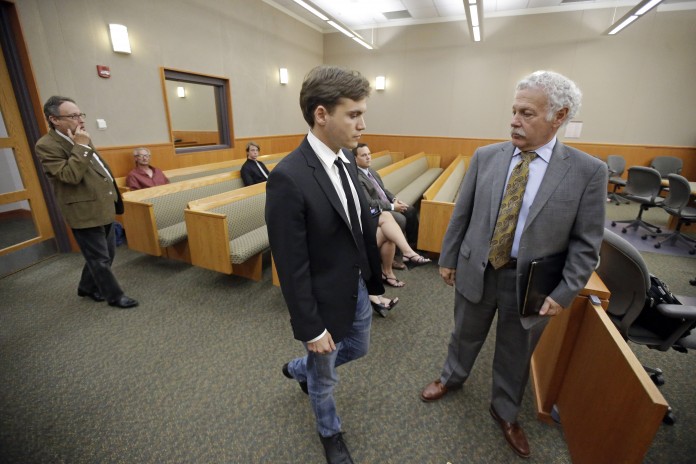 PARK CITY, UTAH – August 17, 2015 (Gephardt Daily) – "Into the Wild" actor Emile Hirsch made another appearance in court Monday in Park City, where prosecutors and Hirsch have apparently reached a plea deal.
Hirsch was initially charged with third-degree aggravated assault and intoxication, a misdemeanor that carried the possibility of a five year prison sentence, after allegedly putting a film executive in a chokehold at the Sundance Film Festival in January.
The plea deal reduces those charges to a class A misdemeanor assault and Hirsch will be required to serve 15 days in jail, 90 days probation, 50 hours of community service and pay a nearly $5,000 fine. He was immediately taken by bailiffs after court.
The incident took place in the pre-dawn hours of January 25 at TAO nightclub where he apparently got into a fight with the Paramount Pictures vice president of digital entertainment, Dani Bernfeld. She pushed him away but he allegedly came back up behind her and put her in a chokehold.
Court documents indicate Hirsch pulled her across a table and onto the floor where he wrapped his arms around her neck.
Bernfeld said her vision began to go dark and she may have temporarily blacked out.
Hirsch was arrested after bystanders allegedly pulled him off Bernfeld. Witnesses said he appeared intoxicated and had asked Bernfeld why she looked "so tough" and called her a "rich kid."
Hirsch was attending the film festival to promote his new movie, "Ten Thousand Saints".
Neil Kaplan, Hirrsch's attorney said initially the actor had been drinking alcohol and taking medication and doesn't remember the events.