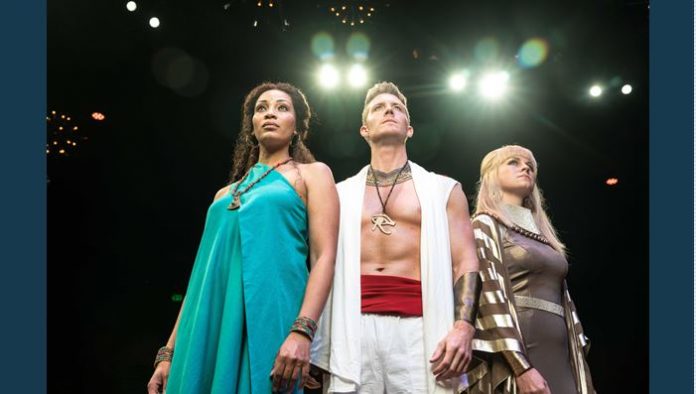 SANDY, Utah, Nov. 19, 2017 (Gephardt Daily) — The gods seemed to smile on Hale Centre Theatre on Thursday night.
It was a gala opening night for the $80 million, 133,306-seat theater, and excited celebrants attended in black tie or sequinned gowns. Utah Governor Herbert declared Thursday Hale Centre Theatre day.
But the real magic started once hundreds of guests were seated around the Centre Theatre, one of two performance stages in the Mountain West Performing Arts Center.
The theater, decorated to suggest a palace fit for the gods of ancient Egypt, provided the setting for "Elton John and Tim Rice's Aida," the first show produced on the main stage.
"Aida" is a show known for tuneful pop music and visual excess, but at least in Utah, you have never seen it quite like this.
As in its previous West Valley City location, the Hale offers theater in the round, with a stage that can rise, lower, rotate and do a variety of nifty tricks. The new stage knows even more tricks.
Adding another level to the visuals in the new theater is LED panels that surround the top level of the auditorium, allowing programmers to add a level of vivid — if somewhat unrealistic — stars high above the action. Or the six screens can add Egyptian vases and art, indoor palace pillars, or slave quarters beneath palm trees.
Are you thinking that leaves a void in the middle of the multi-level theater? Well, the plot and various dance numbers call for occasional visits from disco balls and aerialists.
In some musicals, of course, this much spectacle would add up to cirque de silliness, but for this version of "Aida," it works. And a brand new theater has to show off, right?
"Aida" tells the well known story of royal duty and destiny, of forbidden love and eternal hope. And what grounds the whole production and keeps it compelling and watchable for grownups is the acting skills of a top-notch cast.
Thursday's opening show featured Kandyce Marie (Aida) and Casey Elliot (Radames), both of whom have traveled with professional tours of the show. The M/W/F cast offers Raven Flowers and Zack Wilson in the same roles, and they bring serious stage creds as well.
Radames' betrothed is royal princess Amneris (Amy Shreve Keeler on Tuesdays, Thursdays and Saturdays, and Kelly Hennessey-Pulver on Mondays, Wednesdays, and Fridays), in a narcissistic and comical role that leaves the character with some growing room. In Thursday night's opening show, Keeler was spot-on and fun to watch.
In fact, all the voices were stronger than you would expect to see anywhere but a professional theater, although the Hale likes to call itself a "family theater."
Dave Tinney's direction struck just the right balance, as did costumes by Jennifer Stapley Taylor. Lighting, by Michael Gray and Danna Barney, along with choreography by Jennifer Hill Barlow and Ramsi Nia Stoker, achieved dazzling excess.
This will sell out, so book your tickets as soon as you can if you like a giddily over-the-top presentation backed by solid acting chops.
The show runs Mondays through Saturdays through Jan. 20, with a few exceptions. See the full calendar here. The new theater is at 9900 S. Monroe St., Sandy. Tickets are $39 for adults and $18 for K-12 students.