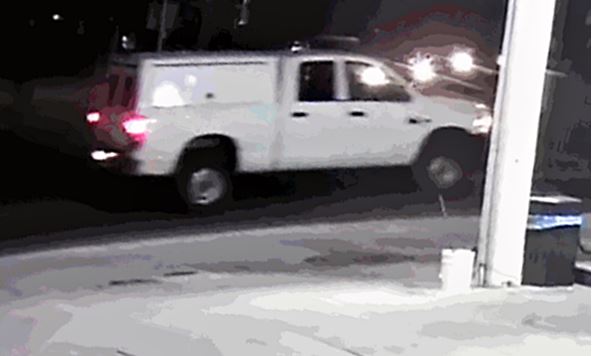 AMERICAN FORK, Utah, Nov. 19, 2019 (Gephardt Daily) — American Fork police have released surveillance photos of a pickup truck believed to have been involved in a fatal hit and run accident Monday.
The suspect in the case is still at large, and officers are hoping someone will recognize the white pickup, which may have front-end damage.
The name of the 64-year-old pedestrian who was killed has not been released. The accident happened in the area of 280 E. Main St.
The AFPD posted the following:
"FATAL HIT & RUN; REWARD: Alright friends — we really need your help! Last night, this vehicle struck and killed an adult male in our city and fled the scene. A reward is being offered for any information leading to the arrest and successful prosecution of the individual(s) involved."
The truck is described as a white, 4-door, 2006-2009 Dodge Ram.
"As you can see, it has steel wheels, a short bed, and a unique bed shell. The shell has cargo access from both sides and double access doors on the back.
"The truck will be missing its entire front driver headlight assembly and may also have other body damage to the front driver corner."
"Please be on the lookout and please share this like crazy!! If you have any information regarding this vehicle or the incident, please contact Central Utah Dispatch at 801-794-3970. Thank you!"