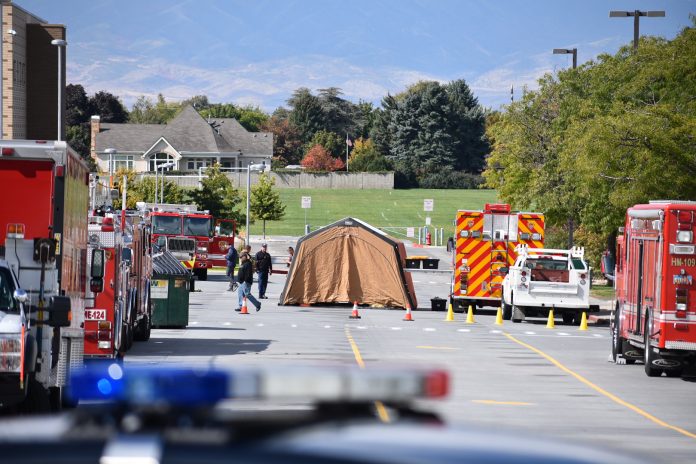 COTTONWOOD HEIGHTS, Utah, Oct. 1, 2017 (Gephardt Daily) — Fire crews and a HazMat team were called to the scene of an ammonia leak at Cottonwood Heights Recreaction Center Sunday morning.
Ross Fowlks, acting district chief for the Unified Fire Authority, told Gephardt Daily employees at the center, at 7500 S. 2700 East, came in before the building opened Sunday and noticed a smell of ammonia in the building.
Fire crews were called at approximately 10:30 a.m., and the staff self-evacuated.
"They had a car accident last night at about 2 o'clock, that shut power off to the area," Fowlks said. "They've had some issues with a leak, in their ammonia, just a slight leak, and I guess with the power failure that caused a leak to build up and it kind of spread throughout the building."
Crews arrived and opened up and all the doors, and checked the perimeter to make sure surrounding residents were safe. The HazMat team was called in as a precaution.
"Got ready to send our guys in and by the time we'd ventilated, on entry we get inside and most of it was dissipated and gone," Fowlks added. "So now we've just got a technician on scene getting ready to go in and make sure the leak's stopped."
The ammonia is for the ice rink at the center, Fowlks said.
The Recreaction Center will be shut down until the technician can get in and make sure the ammonia leak doesn't continue.
Cottonwood Heights Police Department was called to the scene to assist with securing the area and keeping people away from the building.