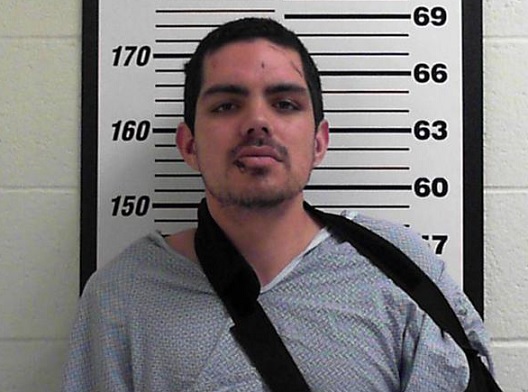 FARMINGTON, Utah, Aug. 11, 2016 (Gephardt Daily) — A Bountiful man who pleaded guilty to killing 21-year-old Jazmyn Jeppson — when, while he was fleeing police in a carjacked vehicle, he cashed into the back of her car — has been sentenced to 15 years to life in prison.
Anthony Santos Cruz, 28, was sentenced Wednesday by Judge David Hamilton to serve 15 years to life at Utah State Prison for the murder charge, as well as one to 15 years for the robbery charge. Hamilton ordered that the sentences will run concurrently, meaning Cruz will serve the sentences at the same time.
On June 22, Cruz had pleaded guilty to Jeppson's murder, a first-degree felony, and one count of second-degree robbery in 2nd District Court for the Feb. 1 crash.
Jeppson, of Farmington, had returned six weeks earlier from a mission for The Church of Jesus Christ of Latter-day Saints in Houston, Texas.
Police said the incident began at 4:30 p.m. on Feb. 1 with the report of a carjacking near Mutton Hollow Road and Fairfield Street in Kaysville.
A Mazda 6 reportedly was taken by a male and female, now known as Cruz and Michelle Jennifer Vigil, 23, Cruz's girlfriend. Both left in the vehicle.
An attempt-to-locate order was put out to multiple law enforcement agencies in the area, police reported.
A Unified Police officer on his way to work stopped to assist the Mazda 6 on southbound Interstate 15, near Lund Lane, in Centerville.
Cruz told the officer he and his girlfriend had run out of gas. The officer thought the circumstances seemed suspicious and called Davis County Dispatch, who informed the officer of the carjacking and the attempt-to-locate order.
The Unified Police officer attempted to take the two into custody, but Cruz ran to a nearby black Volkswagen sedan and carjacked the car's driver. The driver, a female, was able to jump from the vehicle before it sped away.
Police say Cruz then left I-15 at Parrish Lane in Centerville, where he crashed into a silver Infiniti driven by Jeppson, who died at the scene.
Cruz and Vigil were arrested, and Cruz was taken to a local hospital for treatment.
The investigation was carried out by detectives from Kaysville, Centerville and Syracuse police departments, the State Bureau of Investigations and Davis County Attorney's Office.
Vigil has pleaded guilty to second-degree robbery for her role in the first carjacking. Her sentencing is set for Aug. 17.