NORTH SALT LAKE, UTAH – September 30, 2015 (Gephardt Daily) – A fast moving fire at an apartment complex in North Salt Lake displaced two families Wednesday afternoon.
According to South Davis Metro Fire Chief Jeff Bassett, multiple calls came in from a complex located at 323 E. Odell Lane on reports of a fire in one of the units. "When our crews arrived there were flames coming out of the roof and the windows," Bassett said. "The occupants of the apartment were not home at the time of the fire and our crews were able to quickly contain the flames."
Bassett said there was also a lot of water damage to the apartment underneath the unit that had the fire and it is possible both families will be displaced. "We are currently working with the landlord of the complex to see if there are currently any other units available," Bassett said. "Red Cross will be called to assist both families if there is no other available options."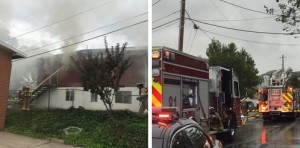 The cause of the fire is still under investigation and Bassett said they are uncertain the estimate of damage until the investigation is complete.