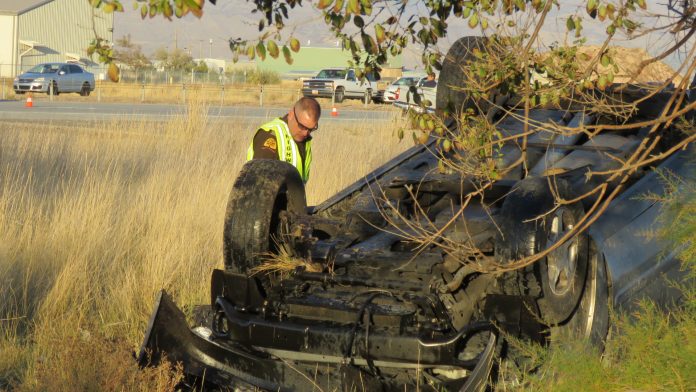 MAGNA, Utah, Oct. 22, 2016 (Gephardt Daily) — An Ogden man is in extremely critical condition after being ejected from an SUV as the result of a road rage incident in Magna.
Utah Highway Patrol Sgt. Jacob Cox said the accident happened at about 5 p.m. Saturday on eastbound State Route 201, near 8000 West. The Trailblazer SUV and a BMW were involved.
"They both stopped at a red light, and it appears there were some words exchanged between the occupants of the two cars," Cox said. "We're not entirely sure of what was going on before, but then the cars started to swerve at each other, and we have reports that one car (the SUV) pulled in front of the other and kind of brake-checked him, stepped on the brakes pretty hard, and then they both took off."
Cox said the SUV swerved in front of the silver BMW 323, then overcorrected and went off the roadway to the south. The SUV started to go sideways, then to roll. Two SUV occupants who were wearing seat belts suffered minor cuts and bruises. A passenger who was not wearing a seat belt was thrown from the SUV.
"He was ejected out, and he is in extremely critical condition," Cox said. "He was transported by medical helicopter to the University of Utah, and they're not entirely sure if he's going to survive or not, due to the extent of his injuries."
Troopers found drugs and paraphernalia in the SUV and the driver, identified by Utah Highway Patrol as Brandon Atkinson, 30, of West Valley City, was arrested for driving under the influence. UHP identified a passenger in the SUV as Thomas Evans, 28, of Salt Lake City.
The passenger who was ejected has been identified as Jared Hansen, 30, of Ogden. He was still listed in critical condition at the hospital late Saturday night.
The BMW did not remain at the scene, and troopers are following leads in hopes of finding it.
Cox said it appears the drivers of the two vehicles did not know each other, and road rage was the likely cause of the accident.
"It's more common than you think," Cox said. "Somebody feels that someone cut them off, and they take it personal rather than backing off and just letting them in. They feel like they've got to get back at that individual, and that's where crashes happen."
Cox said seat belts can be lifesavers.
"We hate to see lessons like this, but there were three people inside the car, and two people only had minor injuries, and one person was ejected and has critical injuries, and might not survive.
"If he was wearing his seat belt — you can't promise anything, but I can bet anyone a million dollars right now that he wouldn't be in as bad shape as he is if he had a seat belt on. He would have stayed inside the car and would probably just have cuts, scrapes and bruises. He'd be walking around, talking to us right now. That's the difference between wearing or not wearing your seat belt."