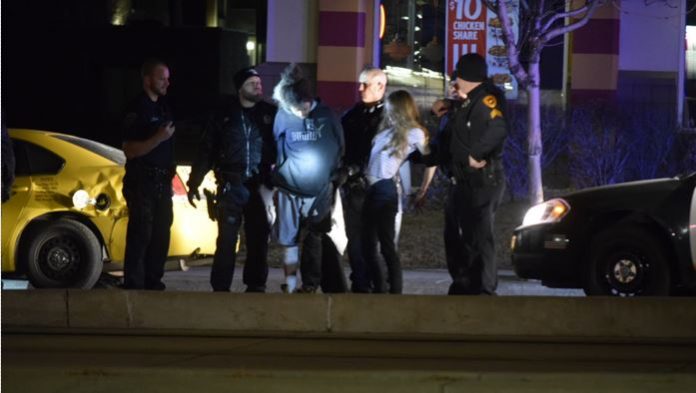 SALT LAKE CITY, Utah, Jan. 4, 2018 (Gephardt Daily) — Two suspects are in custody after police say the pair hijacked a Yellow Cab at knifepoint and sped through multiple jurisdictions, gathering a parade of police and canine teams as they covered more ground.
In the end, it took tear gas to force the man and woman out of the taxi, and a police dog to corral the driver, a known gang member, after he continued to resist arrest.
Police later identified the male suspect as Jordan Kent, 24.
The call came in at 11:40 p.m. Wednesday, said Lt. David Cracroft, Salt Lake City Police Department. After being forced out of his car, the driver had alerted his cab company, which has GPS trackers in its vehicles.
"The cab company was able to track the car, and our officers eventually caught up to it on Seventh east and about 33rd South," Cracroft said. "When we had enough help, we tried to stop him, and the suspect fled."
The suspects led officers to West Valley City, then south. The Utah High Patrol and Unified Police Department put out spikes, and the chase ended at about 655 East on 400 South, back in Salt Lake City.
"The suspects refused to get out of the car," Cracroft said. "We shot some foam rounds at the windows, trying to break the windows, but it didn't work very well."
Unified police had access to tear gas and an operator, so fired a round into the cab.
"The suspects decided to exit the car," Cracroft said. "The driver was not cooperating, so a canine was deployed and he was taken into custody."
The cab driver identified the suspects, who were hauled away to be interviewed. Kent was booked into jail for aggravated robbery, aggravated assault, failure to stop, interfering with an arresting officer and possession of drug paraphernalia.
The man has known gang affiliations, Cracroft said.
The chase was allowed to continue so long because the roads were nearly empty overnight, Cracroft said. Although speeds didn't exceed 80 mph, the pursuit would have been called off if other traffic had been on the road.
Other than a few scratches, no one was injured in the incident, Cracroft said. One patrol car did run over a spike strip, and would need new tires, he said.