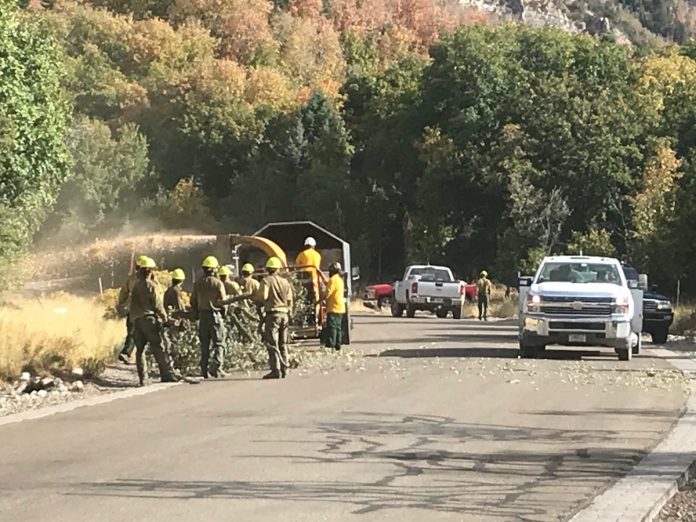 UTAH COUNTY, Utah, Sept. 26, 2018 (Gephardt Daily) — Containment continues to grow on the Bald Mountain Fire in Utah County, which is 71 percent contained as of Wednesday morning.
That's up from 61 percent Tuesday; and the acreage is holding at 18,605 acres, according to the InciWeb website.
The Pole Creek Fire, which is burning alongside the Bald Mountain Fire, is the same size at 101,843 acres Wednesday and is now 56 percent contained, up one percent from Tuesday.
The update said that as containment has increased and fire behavior has moderated, the complexity of operations has been reduced. "As a result, starting Friday, the Bald Mountain and Pole Creek Fires will be managed by a single Type 1 team," the update states. "The outgoing Rocky Mountain Incident Management Team and Great Basin Team 1 are working closely with the incoming California Incident Management Team 1 to ensure a smooth transition."
Firefighters from both the Bald Mountain and Pole Creek Fires are working together along the northern perimeter and in the interior, looking for ways to secure the fireline where the two fires grew close together, the update said. The uncontained portions of the fire perimeter are being patrolled by ground and air resources.
Crews also responded Tuesday to a small fire, caused by lighting, that flared up near the two larger fires.
"Firefighters from the Bald Mountain Fire responded quickly and aggressively Tuesday to a small fire, named the Pack Fire, approximately three miles east of Mona in the Willow Creek area," the update goes on. "It was estimated at less than an acre. Helicopters and an air tanker were used to drop water and retardant on that fire, and firefighters will continue to patrol and use aircraft as needed."
Some areas near the fires remain in pre-evacuation status. Information about pre-evacuation status is available from the Utah County Sheriff's Office here.
While both U.S. Highway 6 and U.S. Highway 89 are open, due to fire operations that are ongoing along both roads drivers are being urged to exercise care and drive at the suggested speed of 45 mph.
The Pole Creek Fire started on Sept. 6 and the Bald Mountain Fire on Aug. 24; both fires were caused by lightning. The fires are expected to be contained by Oct. 10.
For an interactive evacuation zone and fire boundary map click here.