SALT LAKE CITY, UTAH – September 4, 2015 (Gephardt Daily) – Salt Lake City-based Ballet West is encouraging Taylor Swift to attend a rehearsal Friday afternoon, saying they have the tutu she wore in the "Shake It Off" video ready for her to wear.
Swift is due to play a sold out show at the Energy Solutions Arena tonight, and the Ballet West rehearsal begins at 3:45 p.m.
The company tweeted: "@taylorswift13 Since you're in #SLC, come on over to rehearsal @ 3:45 — we have your #ShakeItOff Tutu ready for you!" and the post has been re-tweeted by dancers including first soloist Allison DeBona.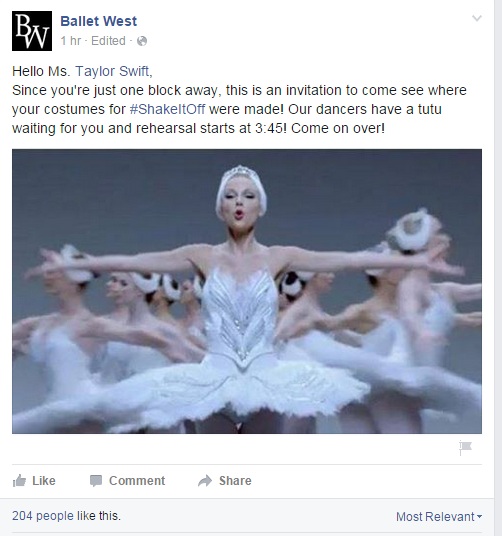 Swift's number-one 2014 video "Shake It Off" features Ballet West's "Swan Lake" costumes by costume production director, David Heuvel. Swift's team rented eight costumes and the video now has over one billion views on YouTube. "This is definitely my favorite costume of the entire shoot so far, this amazing ballerina outfit, and they're all wearing it, and they look so beautiful," Swift said about the tutu, according to the Ballet West website.
Back in April, Gephardt Daily told the story of two girls from Salt Lake City who won tickets to the show by folding 1,989 paper cranes for Swift's mother, who has cancer.
Swift's "The 1989 World Tour" kicked off earlier this year and will visit eight countries.