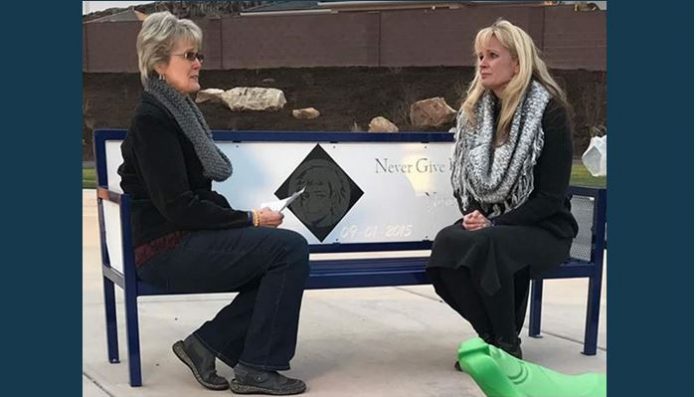 ST. GEORGE, Utah, Jan. 22, 2019 (Gephardt Daily) —  Macin Smith's mom, Tracey Bratt-Smith, doesn't hesitate when she's asked what she would say if she could sit on the new bench dedicated to her missing son and speak directly to him.
"I'd ask him what it would take to have him come back home to me," she tells Gephardt Daily.
"Firstly, I would express directly my unwavering love and support for him. Secondly, I would catch him up on his brothers and sisters' lives. I'm sure some of the news, he would roll his eyes at; I can anticipate his reactions, and some news he would be speechless. Three years is a lot of information to disclose…. I'd want to show him pictures too."
The custom-made bench, which was unveiled in St. George Monday evening, is inscribed with the words "Never Give Up; Never Surrender."
The words are a reminder to Macin's family, friends and supporters, who gathered at the newly built Crimson Ridge Park on 3000 East to witness the unveiling of the bench, that though he vanished without a trace nearly three-and-a-half years ago, they will go on fighting to keep his memory alive.
The bench also features an anime portrait of Smith — depicting him as the 17 year old he was on Sept. 1, 2015, when he walked away from his home early in the morning when his parents thought he was on his way to school.
That date is also inscribed on the bench, as well as Macin's date of birth. The bench has been placed just a block-and-a-half from where he went missing, and it overlooks the red rocks that he loved.
Since Macin went missing, Bratt-Smith, who recently got divorced from his dad, Darrin Smith, has spoken to Gephardt Daily on numerous occasions, and she also spoke to us exclusively Monday.
She said though she has recently moved away from the physical address from which Macin went missing, she will never leave him behind.
"I think this new house has made a difference with moving on emotionally and healing," she said. "I will NEVER truly leave it all behind. Macin will continue to be a part of my every day thoughts and feelings but I think being in the same house that Macin walked away from was far more painful then I thought. I remain ever hopeful that we will find something someday that will provide answers."
Bratt-Smith said the idea for the bench came about back in August of 2018 when the last community search for Macin was being prepared. "My friend Stacy suggested that I needed something concrete, a place to go, a place to mourn," she said. "It didn't feel right to do a graveside memorial site; too depressing. That's when we thought of a bench or a tree or some inanimate object … a place to go and be 'still.'"
A local businessman happened to watch an interview with Bratt-Smith and her brother Keith Bratt that Gephardt Daily did in September, just before the search, and reached out to her. She visited the metal manufacturing company, Creative Metal FX, in Hurricane, and brought the anime picture that a member of Macin's Army had drawn a couple of years ago, which hangs in his room.
"It's the most beautiful bench I have ever seen," she said. "The etched in detail of the anime Macin is absolutely stunning. This bench will last a lifetime … or more. It is a special spot as the ridge where we have done the most extensive searching is overlooking this park. I will frequent this park regularly."
She added: "It was such a beautiful dedication. The dedicatory prayer was given by Uncle Joey, who gave a heartfelt meaningful message of peace and comfort. He leaned over to me afterwards and said 'I believe Macin is here.' "A vocalist also sung "Bring Him Home," from the musical "Les Misérables."
Bratt-Smith said the first time she sat on the bench, she felt a sense of awe.
"I had to stroke the bench and truly feel the etched in name and detail … feel the permanency of it all," she said. "I thought to myself, this bench may actually save a life … at least I hope it makes a difference in a positive way to anyone who views it."
She added that though there are currently no scheduled events or searches planned for this year, family and friends will do spot searches, so those areas can be crossed off a comprehensive map.
Macin, the youngest of the Smith's six children and the only one who was still living at home, left behind his cellphone, wallet, laptop and his school binder.
He did leave a note, which his parents discovered a week later, folded inside his wallet. They have not released the contents, preferring to say the note contained an "intent," which led them to believe he may have planned to harm himself.
Macin has light-blue eyes, and he had short blond hair when he went missing. He is 6 feet 4 inches tall and weighed 200 pounds before his disappearance.
There is a $10,000 reward in place for information leading to Macin's location.
The latest information about Macin is posted on a Facebook page dedicated to finding the young man, for more information click here. Anyone with information about Macin is asked to call the St. George Police Department at 435-627-4300.